---
Adtran T1 CSU ACE

COMPACT T1 NETWORK FACILITY INTERFACE


Adtran T1 CSU ACE - new part # 1203022L1 -
old # 1202022L1 and 1200022L2
Adtran T1 ESF CSU ACE - 203025L1
T1 ESF CSU ACE (4th Gen) - 1204025L1
Adtran T1 ESF CSU ACE (RM) 1202066L1
The ADTRAN T1 CSU ACE is a compact, full-featured T1 channel service unit used to connect T1 data terminal equipment (DTE) and T1 facilities. The unit is designed to provide alarms, loopbacks, signal regeneration, line build out, and surge protection, as well as maintain 1s density for the DTE and T1 network.
The compact T1 CSU Adtran ACE is suitable for wall-mounting or desktop use. Four LEDs on the front of the unit (POWER, LOOPBACK, EQUIPMENT LOS and NETWORK LOS) display the status of the unit. Above the LEDs, five small switches provide settings for customer premises equipment and network line build-out (LBO) distances. A small switch located on the unit's faceplate enables manual loopback operation. The three switches allotted for the equipment LBO offer five combination settings for PBX termination at distances up to 655 feet. The two network LBO switches provide four combination settings from 0 to 22.5 dbs in 7.5 increments.
The compact T1 Adtran CSU ACE provides three bantam jacks which are available for testing purposes. Two connections provide interruptive transmit and receive access toward the T1 network or the DTE device. The third is a non-interruptive connection for monitoring data flowing in either direction. Two RJ-48C modular jacks provide the network and DTE connections. The -48 VDC power pack is included with the unit and plugs into a wall-mounted socket. The T1 CSU ACE also supports a customer-supplied -48 VDC power source.
For additional T1 applications, ADTRAN provides several versions of the T1 Adtran ACE CSU which offer various features and mounting options. ADTRAN T1 CSU products also include the T1 ESF CSU ACE and the rack-mounted T1 ESF Smart 16 Card.
Features
Provides T1 facility interface and jitter tolerance per ANSI T1.403, T1.102 and AT&T TR 62411
Supports framed (B8ZS or AMI)
Transparent to ESF formatted data
Transmits unframed all 1s during signal loss from DTE or T1 network
-48 VDC Powered
Automatic or manual line build-out configuration
Space-saving design can be desktop or wall-mount
Standard 5-year warranty
---
Adtran ACE CSU APPLICATION EXAMPLE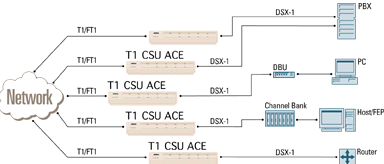 ---
Product Specifications
Network Interface

Line Rate

Physical Interface

Specifications

Framing

Line Code

ESF Format

Input Signal

Transmission Type

Regenerative transparent toward network and toward DTE

Equipment Interface

Compliance

Receiver Performance

Automatic Line Build-out for 0-655 ft

Keep Alive Signal

Unframed all 1s on loss of signal from DTE

User Options

Mounting

Desktop or wall-mount bantam jacks
Accessible on side of unit
Test signal access points toward network and toward DTE
Non-interrupt signal receive monitor for network and DTE

LED Indicators

Power
Network Loss of Signal
Equipment Loss of Signal
Loopback

Option Switches

Line Build-out (0, 7.5, 15, 22.5dB)
DSX-1 Line Build-out (0 to 655 ft)

Compliance

FCC part 15, Class A
FCC Part 68
Industry Canada CS03
UL 1459
CUL

Environment

Operating Temperature

0° to 50°C, (32° to 122°F)

Storage Temperature

-20° to 70°C, (-4° to 158°F)

Relative Humidity

Up to 95%, non-condensing

PHYSICAL

Dimensions

1.35" H x 3.75" D x 6.25" W

Weight

Power

-42 to -56 VDC
Line powering from carrier

Product Includes

RJ-45 cable and user manual

SPECIFICATIONS SUBJECT TO CHANGE WITHOUT NOTICE.
---
Ordering Information
T1 CSU ACE T1 ESF CSU ACE T1 & ESF CSU

---
ADTRAN supplies a complete line of high-performance equipment for corporate end-users of digital telecommunications services. In addition to these innovative access products, ADTRAN also supplies installation and maintenance services as well as a family of network management products that simplify the process of installing and operating a reliable network. ADTRAN's comprehensive T1 product family includes more than 50 products, including single-port and multiport DSU/CSUs, CSUs, multiplexers, and a D4-compatible channel bank. Application specific, plug-in modules can be combined in various ways to meet specific customer needs, making the TI/FT1 product line flexible and practical. ADTRAN also offers a complete line of SNMP-capable T1 units and single-port T1 service units.
---
| | | |
| --- | --- | --- |
| Adtran ACE T1 CSU | | |
T1 CSUs
Adtran ACE T1 CSU - new part #



1203022L1
(old numbers)


1202022L1


1200022L2
Adtran T1 CSU CP (Type 400 Circuit Pack)
1210018L1
For a data sheet click here.
---
| | | |
| --- | --- | --- |
| Adtran T1 ESF CSU ACE | | |
Same features as T1 CSU ACE
Configurable to switch ESF/SF line coding formats
Smart 16/16e rackmount version available
Front panel keypad and LCD screen

Adtran T1 ESF CSUs

T1 ESF CSU ACE
1203025L1
T1 ESF CSU (RM)
1202066L1

T1 ESF CSU ACE (4th Gen)

1204025L1
T1
T1 CSU
T1 CSU ACE
1202022L1
old number
1200022L2
T1 Channel Service Unit used for interfacing CPE equipment to a T1 line. Powered by 12 to 48 VDC. AC to 12 VDC wall plug included w/ unit. Unit is transparent to ESF and B8ZS. New housing with LEDS on front of unit and interfaces on rear of unit.
T1
T1 CSU
T1 CSU ACE Spare Power Supply
1902022L1
12 VDC wall plug power supply. Converts 120 VAC, 60 Hz power to 12 VDC for T1 CSU ACE (1202022L1).
T1
T1 CSU
T1 ESF CSU ACE
1203025L1
T1 ESF CSU used for interfacing CPE equipment to T1 line. Also provides SF to ESF conversion. Support for T-Watch and updated menu structure.
T1
T1 CSU
T1 ESF CSU ACE Rackmount
1202066L1
Rackmount version of ESF CSU ACE compatible with Smart 16 /16e shelves. Used to interface CPE equipment to T1 line. Provides SF to ESF conversion with full ESF performance information.
T1
T1 CSU
T1 CSU Circuit Pack
1210018L1
Type 400 T1 Channel Service Unit Circuit Pack, used for interfacing CPE equipment to a T1 line. Compatible with T400 shelves (1150092L1). Powered by -48 VDC.
| | | | |
| --- | --- | --- | --- |
| NT1 ACE | 1203019L1 | NDNTAAT1AA | BRI Network Termination Unit |
| | | | |
| --- | --- | --- | --- |
| NT1 ACE3 | 1200236L1 | NDMMLMJ1RA | BRI Network Termination Unit |
| | | | |
| --- | --- | --- | --- |
| NT1 ACE4 | 1200242L1 | NDMMLPJ1RA | BRI Network Termination Unit |
---
jump to related CSU/DSU pages
jump to related Adtran pages
jump to related Adtran CSU/DSU pages
---
ARC ELECTRONICS
301-924-7400 EXT 25
jump to ... Home Page

arc@arcelect.com