---
Cellular Modem Security Features and Specifications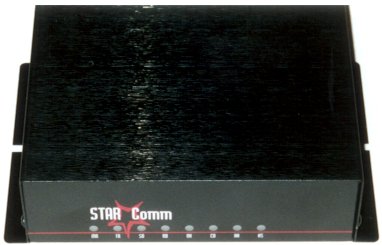 Both RS-232 and RS-485 DTE interfaces.
Remote configuration and remote management.
Password protection and audit trail capabilities with precision time keeping.
Units are packaged in StarComm's rugged metal enclosure.
Quick connect transaction sequences are supported at rates of 2400bps or lower.
The StarComm cellular security modem is an industrial rated communications device for telemetry and remote management applications. It has been designed to operate on any network utilizing the North American Advanced Mobile Phone Systems (AMPS) standard. Therefore, ubiquitous coverage is available in the United States, Canada and Mexico. With its wide range of AC or DC power options, rugged packaging and industrial temperature ratings, the StarComm cellular security modem offers the ideal solution for implementing remote communications when and where you need it.
---
Key Features
• UBIQUITOUS HIGH SPEED WIRELESS DATA -
Compatibility with the North American Advanced Mobile Phone System (AMPS) provides error corrected data rates from 300Bps to 9600Bps throughout the United States, Canada and Mexico. .
• MULTIPLE DTE INTERFACE STANDARDS -
RS-232, RS-485 4-wire full duplex and RS-485 2 wire half duplex.
• ALARM DETECTION
One alarm input is provided and may be activated from either contact closure or contact opening. Upon alarm detection, the cellular modem will dial a user defined telephone number and. send a user defined alarm message.
• PASSWORD PROTECTION -
As many as 400 passwords may be stored in the cellular modem. Password protection may be configured to operate either with or without a password prompt. Operating without a password prompt makes it more difficult for intruders to understand system operation and access requirements.
• AUDIT TRAIL WITH PRECISION TIMEKEEPING -
With the audit trail facilities of the StarComm cellular modem, there is never a question about who has gained access or who has tried to gain access to a remote installation. All attempts to access the cellular modem are stored in a nonvolatile audit trail along with the date and time.
• REMOTE CONFIGURATION -
The remote configuration facilities of the cellular modem allow the user to remotely maintain passwords, review the audit trail or modify any parameter of the device. Additional configuration commands allow you to select DTE bit rate, character length and parity. Remote configuration access may be restricted to specific passwords.
• OPTIONAL DEVICE MANAGEMENT SOFTWARE -
Automates audit trail data collection and simplifies password management for large, distributed networks.
---
Specifications
DATA COMPATIBILITY - V.32bis, V.32, V.22bis, V.22, V.23, V.21, BELL 212A, BELL 103J.

DTE INTERFACE - RS-232E (V.24) and RS-485. Autobaud or fixed data rates to 115.2Kbps.

AUTO DIAL MODES - Standard AT compatible dial commands or DTR dial of stored number.

ANSWER MODES - Standard auto answer or manual answer under DTE control.

ERROR CORRECTION - V.42 and MNP 2‑4 error correction. MNP 10 extended cellular services.

DATA COMPRESSION - V.42bis and MNP5 data compression.

CONFIGURATION CONTROL - Standard AT commands for both local and remote configuration.
Optional front panel configuration using LED's and push buttons. Enhanced AT commands for configuring and monitoring cellular network parameters






Part Numbers:

1442M-920-C
DIAGNOSTICS -
POWER SUPPLY
Voltage: Minimum = 8VDC, Nominal = 12 or 24VDC, Maximum = 27VDC.

Current (at 12Vdc): Standby = 170mA, Operating Ranges: 420mA to 600mA.

Current (at 24Vcc) : Standby = 90mA, Operating Ranges: 230mA to 320mA.
ENVIRONMENTAL -
APPROVALS -
PHYSICAL (STAND ALONE UNITS)
CONNECTORS
Power: Pluggable terminal strip (Altec STL1550), or equivalent.

Antenna: TNC (Amphenol 31‑2389), or equivalent.

Alarm: Pluggable terminal strip (Altec STL1550), or equivalent.
CELLULAR RADIO
Network Compatibility: North American Advanced Mobile Phone Systems (AMPS).

Power output: 600mw (nominal).

Receive sensitivity: - 116dBm (nominal)
DESIGNED AND MANUFACTURED IN THE USA
---
ARC ELECTRONICS
jump to ... Home Page