Canoga Perkins 2346 T3-DS3 Fiber Optic modem Optically Extends DS3 and T3
Canoga Perkins 2346 Fiber Optic modem for DS3 extensions
Optically Extend T3/DS3 Up To 100km
This is the solution for the Telco Demark in the wrong place or even the wrong building.
When you need to tie building communications together at the T3 - DS3 level
the 2346 DS3 Fiber Optic modems will let you extend out to 100KM.
---
Canoga Perkins

2346 DS3 T3 Fiber Optic modem
Optically Extends T3/DS3 Up To 100km Over SMF

Single Mode and Multimode Fiber

Available With Single Strand Single Mode Optics

Available with CWDM Optics

Hot Swappable and Field Installable

Continuous BERT

Transparent to Framing Formats

SNMP Management Support

End-to-End Management via SideBand Management Channel

Local and Remote Loop-backs

Power Outage Detection in the 1020/1030E Enclosures

Front Panel LED's for Visual Status

NEBS Level 3 Tested and Certified
The EdgeAccess® 2346 T3 DS3 fiber modem provides cost effective, small footprint, reliable optical extension of T3/DS3 (44.736 Mbps) signals on single mode or multimode fiber. It is ideal for extending PBX's, routers, DS3 multiplexers, and ATM switches. The 2346 retimes and reshapes the DS3 signal allowing it to provide the clean and stable signal needed for longest possible extension distances. Up to 100 km extension is possible over a pair of single mode fiber and up 40km over single strand of single mode fiber. A Multimode version is also available for shorter extensions. NEBS level 3 compliant and certified, the 2346 provides a reliable and robust solution suitable for carrier class deployments. Mounting in the UCS chassis and a variety of standalone enclosures, the 2346 addresses a wide range of application scenarios and requirements. In a managed EdgeAccess® enclosure, SNMP and TCP/IP are supported to allow remote management over Ethernet or modem dial-in using SLIP/PPP. A menu driven Management Interface is accessible via Terminal or Telnet connection. Graphical Management is also available with CanogaView®, a Smart Element Manager. The Management Interface for the T3 - DS3 fiber optic modems provides a real-time link monitoring, configuration, status, and diagnostics. Complete management of the remote modem, including setup and software downloads, is conducted on the SideBand Management Channel, a non-intrusive channel dedicated for management. To ease troubleshooting and problem isolation, the 2346 offers local and remote loopbacks along with front panel indicators for quick visual status.
---
Specifications
2346 DS3 Fiber modems
PHYSICAL


Rackmount Dimensions
3.0"H x 1.0"W x 9.0"D
(76 x 25 x 228mm)

Rackmount Weight
0.3 lb (0.13kg)

Standalone Dimensions
1.5"H x 6.5"W x 10.0"D
(38 x 165 x 254mm)

Standalone Weight
3.0 lbs (1.36kg)

ENCLOSURES


Rackmount
UCS 1002
UCS 1000 and UCS 1001
(using model 1230 BAM)

Standalone
Model 1030/1030E, 1020,
and 1050 (using model 1230 BAM)

MANAGEMENT
SNMP, TCP/IP over Ethernet or SLIP PPP
Local Terminal Connection
Modem Dial-in

OPERATING ENVIRONMENT
Rackmount Temperature
0º to 50ºC

Standalone Temperature
0º to 50ºC

Humidity
Up to 90% (Noncondensing)

POWER
5VDC 800mA Max.

CONNECTORS


Fiber (Extension Port)
SC and ST

Electrical Interface
BNC 75 ohm

DIAGNOSTIC LEDs


STA System status
LOS Electrical Loss of Sync
CFG/TST Software mismatch/operation mode
CLS Composite Loss of Sync
(Features available when installed in a managed enclosure.)
REGULATORY COMPLIANCE
ETL, ETLc (UL 60950/CSA C22.2 No . 60950)
EN 60950, EN 60825-1, EN 55022, EN 55024, EN 61000-3-2, EN 61000-3-3
FCC Part 15B, Class A
R&TTE Directive (EN 300-386)
C-Tick (AS/NZS 3548)
NEBS Level 3 Tested and Certified
---
DISTANCE GUIDE
for Multi-mode and single-mode
T3 and DS3 fiber modems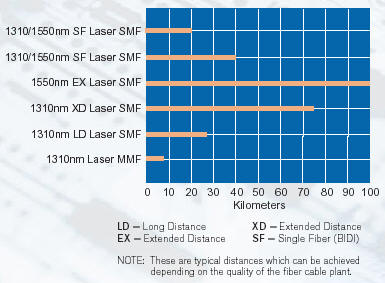 T3 FIBER OPTIC MODEM
see other T3 DS3 fiber optic modem pages
---
ARC ELECTRONICS
301-924-7400 EXT 25
jump to ... Home Page

arc@arcelect.com