---
Canoga Perkins 2245 Fiber Optic modem for DS3 extensions
Optically Extend T3/DS3 Up To 100km
This is the solution for the Telco Demark in the wrong place or even the wrong building.
When you need to tie building communications together at the T3 - DS3 level
the 2245 DS3 Fiber Optic modems will let you extend out to 100KM.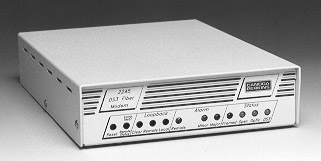 Model 2245
DS3 Fiber Optic Modem


Features
DS3 (44.736 Mbps)
Passes Framed or Unframed DSX-3 Signals
7 Diagnostic LEDs
Conforms to ANSI, Bellcore & AT&T Standards
Single/Multimode Fiber Optics
Rack Mount/ Stand alone
115/230 VAC & -48 VDC
---
Description

The Model 2245 is a multi-featured fiber optic modem that transmits standard DSX-3 (44.736 Mbps) signals over singlemode or multimode fiber optic cable.

The 2245 transports any B3ZS coded data stream with either framed or unframed formats. It provides complete diagnostic and fault isolation features when transporting M13 or C-bit parity framed DSX-3 signals. The 2245 is ideal for a variety of high speed applications including extending the DS3 point of presence from the Telco demarcation point, linking T3 multiplexers over fiber optic cable in a campus network, providing a secure fiber optic link for high speed cryptographic devices or as an ATM feeder link.

The DS3 electrical interface provides a standard DSX-3 signal and conforms to applicable ANSI, Bellcore and AT&T standards. The optical interface may be configured with either LED, ELED or Laser transmitters and with ST-style or FC/ PC connectors.

The 2245 operates at 850nm or 1310nm and is compatible with all popular sizes of single mode and multimode fiber optic cable. Loss budgets are 10dB for multimode up to 20dB when using singlemode fiber.
For applications that require multiple modems, the 2201 Rack Assembly holds up to ten 2200 Series Modems. Standard features of the 2201 include audio, visual and dry contact alarms in the event of power supply failure. Redundant power is also available as an optional feature.
---

---
Diagnostic Indicators (7)
DS3 Input Signal Status  Optical Input-Status 
Operating Mode           Framed Operation
Major Alarm              Minor Alarm
Remote Alarm
Push-Button Switches (5)

Local Loopback           Remote Loopback 
Clear Loopback           Reset Modem
Lamp Test/Remote Status Display   
Physical
Dimensions

(Standalone) 12.8"L X 8.5"W X 2.5"H
(PC Card) 12.5"L X 1.06"W X 7.8"H

Weight (Standalone) 4 lb.

(PC Card) 1 lb.

Power (Standalone & 2201) 115/230 VAC Switch-able, 50/60 Hz, 25W

-48VDC, 25W
Environmental
Operating Temperature 0 to 500 C
Humidity 0 to 95% (non condensing)
Performance
Data Rate 44.736 Mbps
Composite Error Rate 1 in 1010 or better
Data Interface
Connector BNC
Cable AT&T 728A/B , 734A or equivalent
Impedance 75 ohms
Pulse Code AMI
Line Code B3ZS
Alarm Interface
Connector 8 Wire Screw-Clamp plug
Input 1 Dry or Wet Contact Closure
Output 3 Relay Contacts switch-able Normal OPEN or Normal CLOSED
Optical Interface
Connector ST or FC/PC
Transmitter Laser or ELED
Wavelength 850nm, 1300nm
Fiber Optic Cable 62.5/125 multimode; 8-10/125 singlemode
Transmission Code Manchester
Transmission Format Proprietary
Loss Budget
Single Mode 10 dB ELED**, 20 dB Laser.
Multimode 10 dB
---
ARC ELECTRONICS
301-924-7400 EXT 25
jump to ... Home Page

arc@arcelect.com