Adtarn DSU III DBU CSU/CSU
---
DSU III DBU

DEDICATED RACKMOUNT DSU/CSU WITH SWITCHED DIAL BACKUP
The ADTRAN DSU III DBU RM, a high-performance rackmount data channel service unit (DSU/CSU), provides an interface between the digital data service (DDS) and the customers data terminal equipment (DTE) while providing automatic switched dial backup (DBU) of the dedicated circuit. There are four DBU options: 4-wire Switched 56 (SW56), 2-wire SW56, V.34, and 1B+D ISDN. When the DSU III DBU is configured for dedicated service with switched DBU, the user selects options to qualify a dedicated line failure. Upon line failure recognition, the DSU initiates connection to the remote unit over the switched network. Upon restoral of the DDS circuit, the unit automatically or manually reverts to the restored DDS circuit.
The DSU III DBU supports synchronous operations at rates of 2.4, 4.8, 9.6, 19.2, 38.4, 56 and 64 kbps and asynchronous data rates of 2.4, 4.8, 9.6, 19.2, 38.4, and 57.6 kbps. The DTE interface can be selected as either EIA-232 or V.35 for all data rates. Another feature is DTE-to-service rate matching, for dedicated and switched DBU modes. This feature allows slower rate DTE equipment to communicate over a higher speed digital line. In the DBU mode, dialing is accomplished automatically (with stored numbers) or manually.
The DSU III DBU can be configured through the Smart 16/16e shelf controller card from a local/remote VT 100 terminal or from an ADTRAN DATAMATETM. The DSU III DBU can also be configured using AT or V.25 bis commands.
The unit responds to standard loopback commands from the telephone company central office. The front panel LEDs display test status, alarms, and errors during a test and DBU status. Automatic service rate detection and pair reversal detection aid installation.
Features
Automatic conversion to switched mode upon failure of dedicated service
Four backup options available: 4-wire SW56, 2-wire SW56, V.34, and 1B+D ISDN
Synchronous or asynchronous (including 57.6 kbps) modes of operation
EIA-232 and V.35 DTE interfaces
DTE-to-service rate matching feature allows slower DTE devices to communicate over higher rate service offerings
Tail circuit operation support with internal slack data buffer
Manual and automatic dialing capability
Auto answer of incoming calls
Standard 5-year warranty
---
DSU III DBU APPLICATION EXAMPLE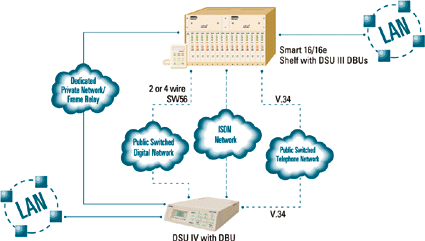 ---
Product Specifications
OPERATING MODES

Dedicated DDS
Dedicated DDS with automatic switched DBU

SWITCHED DIAL BACKUP

Automatic or manual
4-wire SW56
2-wire SW56
V.34
ISDN (1B+D)

NETWORK DATA RATES

Dedicated mode service rates: 2.4, 4.8, 9.6, 19.2, 38.4, 56 and 64 kbps
Dial backup: Switched 56 (56 kbps), V.34 (2.4/33.6 kbps), ISDN (56/64 kbps)

DTE RATES

DTE-to-loop rate matching in both dedicated and switched backup modes
Synchronous rates: 2.4, 4.8, 9.6, 19.2, 38.4, and 56 kbps
Asynchronous rates: 2.4, 4.8, 9.6, 19.2, and 57.6 kbps

DTE INTERFACE

Both EIA-232 and V.35 electrical and physical DTE interfaces

LINE REQUIREMENTS

Loop transmission parameters as defined in:

AT&T PUB 62310: Dedicated DDS
AT&T PUB 41468: SW56

Receiver sensitivity:

Line interface:

RJ-48S, 4-wire, full duplex

DIAGNOSTICS

Network

User

Local DTE and loop, remote V.54

Test patterns

2047, 511, DDS stress patterns 1-4

ENVIRONMENT

Operating Temperature

0° to 50°C, (32° to 122°F)

Storage Temperature

20° to 70°C, (4° to 158°F)

Relative Humidity

Up to 95%, non-condensing

PHYSICAL

Dimensions

Weight

Power

Product Includes: Two 8-pin to 8-pin modular cables and user manual

SPECIFICATIONS SUBJECT TO CHANGE WITHOUT NOTICE.
Ordering Information
DSU III DBU RM (S4W) - 1200043L1
DSU III DBU RM (V.34) - 1200172L1
DSU III DBU RM (S2W) - 1200046L1
DSU III DBU RM (ISDN) - 1200069L1
DSU III DBU SA (S2W) - 1202037L3
---
jump to related CSU/DSU pages
jump to related Adtran pages
jump to related Adtran CSU/DSU pages
---
ARC ELECTRONICS

For discount pricing on a Data Communications ACE-101 ATM Termination Unit ,
email us at radsales@arcelect.com
or call 301-924-7400 EXT 25 for sales
jump to ... Home Page