Drop and Repeat Fiber modem
Industrial Fiber Optic modem
temperature rated,
12 to 230 VAC or DC power
---
•

Access Control Systems

• Building Automation and
Environmental Control Systems

• Computer/Data Equipment

• Fire & Alarm Systems

• Traffic Signal Control Equipment

The IFS D2100 series data transceivers provide drop and repeat transmission of simplex or duplex EIA RS232/RS-422 data signals over one or two optical fibers. The transceivers feature optical "drop & repeat" capability that allows the user to easily configure the network operation. The transceivers are transparent to data protocol. The transceivers are also compatible with the IFS D1010 series data transceivers. Models within this series are available for use with multimode or single-mode optical fiber. Plug and Play design ensures ease of installation requiring no electrical or optical adjustments. Each transceiver incorporates power and transmit/receive data status indicating LED's for monitoring proper system operation. The modules are available in either stand-alone or rack mount versions.
---
FEATURES

•

Meets EIA RS-232/422 Specifications (Simplex or Duplex)

• Meets NEMA TS-1/TS-2 & Caltrans Specifications (Temperature/Humidity, Shock/Vibration, and Voltage

Transient Protection)

• Drop and Repeat Network Architecture

• Transparent to Data Encoding / Compatible with Major Data Protocols

• Automatic Re-settable Solid-State Current Limiters

• Data rates up to 100 kbps

• No In-field Electrical or Optical Adjustments Required

• Integrated WDM for Greater Product Reliability

• Power, Transmit and Receive Data Status LED Indicators

•

Hot-Swappable Rack Modules

• Distances up to 26 Miles (42 km)

• Lifetime Warranty
---
DATA

Data Interface:

RS-232 (data lines only),

RS-422 (See note)

Data Rate:

DC-100 kbps

Operating Mode:

Asynchronous Simplex or Full Duplex

Bit Error Rate:

<1 in 109

WAVELENGTH

D2100:

850 nm

D2120, D2125:

1300 nm

D2110WDM:

850/1300 nm

NUMBER OFFIBERS

D2110WDM:

1 In/1 Out

All Others:

2 In/2 Out

CONNECTORS

Optical:

ST

Data and Power:

Terminal Plug with screw clamps
ELECTRICAL & MECHANICAL

Power:

12 VDC @ 250 mA

Number of Rack Slots:

1

Current Protection:

Automatic Re-settable Solid-State Current

Limiters

Circuit Board:

Meets IPC Standard

Size (in./ cm.) (LxWxH):

Surface Mount:

7.0 x 4.9 x 1.0 in., 17.8 x 12.5 x 2.5 cm.

Rack Mount:

7.7 x 5.0 x 1.0 in., 19.6 x 12.7 x 2.5 cm.

Shipping Weight:

< 2 lbs./0.9 kg

ENVIRONMENTAL

MTBF:

> 100,000 hours

Operating Temp:

-40° C to +74° C

Storage Temp:

-40° C to +85° C

Relative Humidity:

0% to 95% (non-condensing)*

NOTE: The D2100 Series is compatible with some RS-485 (4 wire) systems.

* May be extended to condensation conditions by adding suffix 'C'to model number for conformal coating.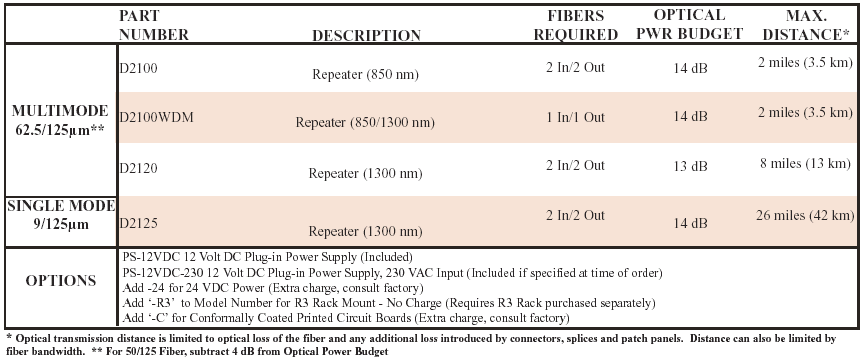 ---
jump to Fiber modems
---
ARC ELECTRONICS
301-924-7400 EXT 25
jump to ... Home Page

arc@arcelect.com