---
Extended Temperature range - SEVERE ENVIRONMENT - DC Power
Now available with a power input option of 12, 24 or 48 VDC. The input floats so ground loops are eliminated. The input total power requirement is under 3.5 watts. Power input can be from solar cells or regular battery. Wide voltage swings can be tolerated - temperature range of -30 to +150 degrees Fahrenheit - power input option of 12, 24 or 48 VDC -
LIFETIME WARRANTY
---
VRT-1ER/DC 12, 24, 48 DC power - 9.6 to 56Kbps CSU/DSU
(SEVERE ENVIRONMENT) SPECIFICATIONS
The VRT-1 is a High Performance, Variable Speed CSU/DSU
that allows users to connect to the Digital Network without obsolescing existing equipment. The VRT-1 performs Bell compatible encoding and decoding, system timing, the proper interface and complete diagnostics in a small package.

BAT VRT-1 Multi-Rate port speed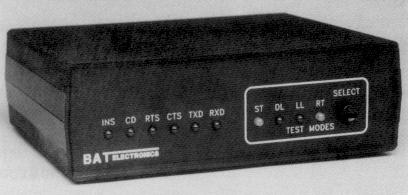 jump to User Manual

Check the Specifications
Using LSI Technology, the VRT-1 provides interface buffering to convert your terminal speed to 56K line signaling. This means that you can install your high speed digital lines today at 56K without having to up grade your terminal equipment. The VRT-1 provides appropriate interface and conversions. The process is completely transparent to your system. As an added benefit, you can also operate asynchronous devices. The necessary conversion circuitry is provided by the VRT-1. LSI Technology greatly reduces the size of the enclosure and power consumption. Fewer parts and lower power means greater reliability.


Adaptive Distance Compensation Circuitry

analyses your link and compensates for distortions. This assures that the VRT-1 is tuned to the optimum performance for your particular installation, extracting the best possible results from your digital circuit. With this advanced circuitry you get better performance under marginal conditions. This means you can take full advantage of the through put capabilities of your digital circuit. Line loss capabilities of the VRT-1 far surpass telephone company requirements.


Interface Flexibility

is assured. The VRT-1 provides speeds from 56K down to 1.2K. Both V.35 and RS-232 connectors are provided as well as the interface circuitry.


Diagnostics

That Work For You and with you to provide the tools needed to manage your circuits. All the appropriate Telco loopbacks are provided. Full remote capabilities are also provided. The BAT VRT-1 can be used to assist you to trouble shoot every part of your link.
---
GENERAL
Line Rate:
56,000 bps
Operating Modes:
Dataphone Digital Service (DDS) in point to point or multi-point applications.
May also be used as Limited Distance Modem in point to point applications.
Standard Features:
IN Service LED, internal timing, DDS slave timing, permanent RTS (user option).
Test Features:
Ten front panel status and test indicators. Front panel push button selects the following test modes: Self Test, Digital Loop, Local Loop, Remote Loop.
Responds to Bell defined CSU and DSU loop backs from the Central Office.
Internal pattern generator.
AC Power:
117 VAC +/- 10%, 60Hz, 12w.
Environment:
-30 to +150 degrees Fahrenheit up to 95% humidity.
Physical:
Height..................2.50 In.
Width...................8.00 In.
Depth...................6.25 In.
CUSTOMER INTERFACE
Connectors:
Both V.35 and RS-232 connectors provided.
Configuration:
Speed
Interface
Sync
Async
56.0K
V.35 / RS-232
YES
NO
38.4K
V.35 / RS-232
YES
YES
19.2K
V.35 / RS-232
YES
YES
9.6K
V.35 / RS-232
YES
YES
4.8K
V.35 / RS-232
YES
YES
2.4K
V.35 / RS-232
YES
YES
1.2K
V.35 / RS-232
YES
YES
Signals are present at both connectors regardless of data rate.
Data Format:
Synchronous or Asynchronous (7/8data bits one stop bit)
LINE INTERFACE
Interface:
Standard registered RJ-48s jack on the rear panel.
Modulation:
Bipolar return to zero.
Impedance:
135 ohm +/- 10%
TX level (135ohm load):
56,000....1.4v peak
RX levels:
Supports at least 40 db attenuation (exceeds Telco requirements by 6 db)
Equalization:
Automatic, no user adjustment needed.
---
ARC ELECTRONICS
301-924-7400 EXT 25 / 301-924-7400 EXT 25 / fax 301-924-7400 EXT 25
jump to ... Home Page

arc@arcelect.com