Single-Mode to Multi-Mode Fiber for
Converter for Gigabit Ethernet
Gigabit Ethernet Single Mode to Multi-Mode Fiber Converter supports
---
Single-Mode to Multi-mode Fiber
Converter for Gigabit Ethernet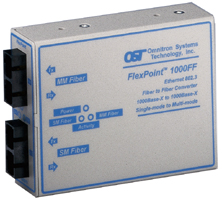 The 1000FF Single-Mode to Multimode Fiber Converter supports Gigabit Ethernet.

Capable of extending network distances up to 50 km (31 mi.) over single-mode fiber.

Available with SC connectors in a variety of both multimode and single-mode fiber combinations.

Supports 1000Base-Lx/Sx and IEEE 802.3 specifications.

Wall-mountable or rack-mountable on a 5-unit shelf or in the 14 unit power-redundant FlexPoint Powered Chassis.

Out-of-the-box plug-and-play operation.

Software-independent.

Lifetime warranty.
The 1000FF Single-Mode to Multimode Fiber
The 1000FF product line supports the IEEE 802.3 standard and provides an extensive range of connectivity options across different media types.
The 1000FF Single-Mode to Multimode Fiber Converter provides a cost-effective solution to extend network distances by connecting multimode fiber networks or devices over single-mode fiber cabling.
The provides diagnostic data through LED indicators that assist in network installation and maintenance. The LEDs report the availability of power and the detection of devices attached to the fiber ports.
The offers several mounting options. It can be mounted stand-alone utilizing optional wall-mounting hardware. It can also be rack-mounted using a 5-unit rack-mounting shelf or be installed in a rack-mountable, high-density, 14-unit, power-redundant chassis.
1000 FF

Connectors and Cables:

Fiber:

SC

Multimode:

50/125, 62.5/125, 100/140 Ám

Single-Mode:

9/125 Ám

Supported Distances:

Gigabit Ethernet:

MM/Sx, 850 nm:

220 m/721 ft.

SM/Lx, 1300 nm:

5 km/3 mi.

SM/Lx/LH, 1300 nm:

20 km/12.5 mi.

SM/LH, 1550 nm:

50 km/31 mi.

Indicators:

Power:

LED, Yellow, power applied

Fiber Link/ Receive:

LED, Green, Link/ data received

Dimensions/Weight:

W:3.0"xD:4.0"xH:1.0"/ 6 oz.

Power:

9 VDC/500 mA or 5 VDC/750 mA

Physical/ Environmental:

Temperature:

Operating: 0 to 70 degrees C

Storage:: -40 to 80 degrees C

Humidity:

0-90% (non-condensing)
Model

Port 1

Port 2

Media Type

Distance

Media Type

Distance

4433-x

MM/SC/SX 850 nm

220 m

SM/SC/Lx 1310 nm

5 km

4437-x

MM/SC/SX 850 nm

220 m

SM/SC/LH 1550 nm

50 km

4440-x

MM/SC/SX 850 nm

220 m

SM/SC/Lx/LH 1310 nm

20 km

4441-x

SM/SC/Lx 850 nm

5 km

SM/SC/Lx/LH 850 nm

20 km
Power Options (-X) (chassis module)

-0 No power adapter included
-1 110 Volt / 60 Hz
-2 230 Volt / 50 Hz
Mounting Options

Description

4380

FlexPoint Wall-Mounting Hardware Kit

4385

FlexPoint 14-Unit 48VDC Power-Redundant Powered Chassis

4389

Redundant Power Supply for Model 4385

4392

FlexPoint 5-Unit Rack-Mounting Shelf

4395

FlexPoint 14-Unit Ac Power-Redundant Powered Chassis

4399

Redundant Power Supply for Model 4395




For other power configurations, consult factory.


Notes:

MM=Multimode
SM=Single-mode
LH=Long-haul
see other Gigabit Fiber Optic Media Converters
---
jump to fiber Tutorial

jump to related fiber pages
---
ARC ELECTRONICS
301-924-7400 EXT 25
jump to ... Home Page

arc@arcelect.com