---
FrameSaver® 9120
T1 Frame Relay Access Unit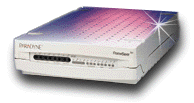 Data Sheet
FrameSaver from Paradyne takes frame relay network access to a whole new level!
The FrameSaver 9120 frame relay access unit is an SNMP-managed T1/FT1 frame relay micro-switch with DSU/CSU functionality that has been specifically designed for mission-critical frame relay network access applications. It includes a DSX-1 "drop and insert" port for voice traffic and two Nx64 frame relay data ports.
At the heart of every 9120 is a frame relay packet multiplexer. This frame relay packet mux allows the 9120 to provide advanced physical and logical management, transparent network restoral and money saving port and PVC aggregation. The 9120 can aggregate frame relay data streams from two independent sources like routers and FRADs into a single access circuit. Multiple PVCs destined for the same location can also be multiplexed into a single network PVC, further reducing frame relay port and CIR costs.
In addition to providing frame relay port aggregation, the Frame Relay AWare (FRAW) packet mux provides the 9120's management functions with "logical" PVC-based management and testing of individual PVCs. This PVC-based network management and SNMP connectivity which is independent of external routers, FRADs, or LAN adapters delivers true end-to-end management of your frame relay network. The 9120 may also be used with the 9028 Compression Unit to compress frame relay packet payloads.
Benefits
OpenLane Network Management Solutions provide advanced frame relay management capabilities; involving detailed performance graphs and the tools required to identify and correct problems in real time
Easy installation with auto learn/auto configuration
Maximizes network availability with PVC-based management, you can manage both physical and logical network connections at any local or remote location
Enhanced SNMP-based network management connectivity options eliminate dependency on routers or external devices and provide true end-to-end management across your frame relay network
Frame Relay aggregation reduces frame relay access, port and PVC costs
DSX-1 Drop and Insert port allows consolidation of PBX voice traffic, further reducing network access costs
Optional ISDN backup provides 'transparent' circuit restoral without operator intervention
Frame relay micro-switch with full-featured T1/FT1 DSU/CSU optimized for frame relay access
DSX-1 port for consolidating PBX voice traffic
2 Nx64 Kbps frame relay data ports; subrates available on Port 1
PVC-based Frame Relay AWare network management supports inband troubleshooting and configuration control
Comprehensive physical and logical frame relay access management and statistics
Integrated SNMP agent

Multi-level password protected TELNET and ASCII terminal management interfaces
Multiple SNMP management connectivity options
Frame relay-compatible data compression when combined with the 9028 Compression Unit
Built-in frame relay statistical port aggregation
Integrated optional ISDN BRI dial backup
Optional HP OpenView and IBM NetView AIX graphical management applications
---
ARC ELECTRONICS
301-924-7400 EXT 25 / 301-924-7400 EXT 25 / fax 301-924-7400 EXT 25
jump to ... Home Page

arc@arcelect.com
---