FrameSaver 9620 56/64 kbps
Frame Relay access system
---
Paradyne's FrameSaver system is the industry's first frame relay access system to provide detailed performance graphs with the tools to effectively manage the frame relay network. Only FrameSaver answers network managers need for true end-to-end management and control with the ability to diagnose and fix network performance problems. Other frame relay systems only alert you to problems after they have occurred - Paradyne's FrameSaver allows you to avoid problems and do something about it if they do occur.
---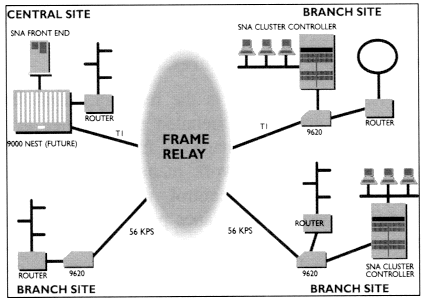 FrameSaver 9620 56/64 kbps
Frame Relay access system
---
Overview
Take control of your frame relay network
Paradyne's FrameSaver system allows network managers to control and manage frame relay networks with detailed graphical performance reports and a sophisticated suite of network management applications. These network optimization tools identify, locate, and fix frame relay network problems in real time, maximizing frame relay network availability, performance and cost savings. FrameSaver diagnoses frame relay network problems, such as network congestion or failures of the access line, frame relay network, router, DSU or other endpoints. Then, FrameSaver features correct the problem(s), averting system downtime and associated data losses. Currently, competitive frame relay offerings only diagnose some network problems and don't provide the tools to resolve them.

FrameSaver Optimizes Savings

Paradyne's FrameSaver system is the only tame relay access system to maximize and maintain frame relay savings. Most customers move to frame relay to take advantage of substantial recurring network savings only to discover that increasing CIR, PVC and port charges degrade these savings over time. Only FrameSaver from Paradyne combats this cost creep with PVC level data compression, PVC multiplexing and port aggregation.
---
Feature

Benefits

Industry leading 56/64K DSU/CSUs optimized for frame relay access
Offers the flexibility of supporting all access requirements from 56K to fractional and full T1
Extensive SNMP Management, "standard MIBs" such as MIB II, Frame Relay and RMON plus Enterprise MIBs
Allows management of different devices under a single Standards Based platform, such as HP OpenView.

Paradyne's OpenLane applications add the ability to take full advantage of the total solution offered.

Plus, since management is standards-based, other third-party management systems like Concord Network Health are also supported.

Frame Relay aware management including:

router independent remote SNMP management
shared or dedicated PVC connectivity with LMI spoofing
extensive PVC diagnostic, loopback and pattern tests

Allows you to communicate to your remote unit without having to depend on the router. Eliminates the need to purchase special management PVCs, cables, LAN adapters or router ports.

Return-to-service tools identify the cause of network problems quickly and minimize downtime. FrameSaver is an intelligent, frame-aware network demarc device, which allows you to run diagnostics and tests non-disruptively (without taking down the circuit).

Intelligent data delivery, latency and burst analyzer features
Intelligent performance monitoring provides accurate information for network optimization and cost reduction. Methodologies employed match those used within the network by the service provider - removes the specter of finger-pointing.
V.35 Data Port With Standard Connector
No additional adapter cable required to connect your DTE equipment.
RMON 2 based layer 1 to 3 performance monitoring and data collection

Physical, logical and RMON statistics stored for 24 hours in 15 minute intervals and daily totals for 5 days

Provides all the information required to manage the performance of your network to the detail level required in your SLA.

RMON based data collection and service level reporting provides efficient and economical monitoring of vital service parameters.

Telnet and ASCII User Interface with password protection
Provides a separate direct connection to the unit through an ASCII terminal, modem or over the SNMP link. This allows the user to configure and test the unit independent of a network management system.
Easy installation with automatic configuration
Auto configuration and router independent management reduce installation time, complexity and expense.
DSX-1 port on 9124 for consolidating PBX voice traffic
DSX-1 drop and insert port allows consolidation of PBX voice traffic, reducing network access costs.
Dual "flash" storage areas and inband FTP software download
Modular architecture and software download capability protects your investment and reduces life-cycle costs. New features can be easily added via download across the network.
Two Year Return To Factory Warranty
Peace-of-mind and evidence of product quality.
jump to 9260 Ordering Information PDF file
---
Network Management

When your frame relay network is out-of-service, network access stops, but your costs keep going. Every minute of downtime counts. That's why we designed the FrameSaver 9620 vita a unique set of Frame Relay AWare (FRAW) network management capabilities. At the heart of every FrameSaver 9620 FRAU is a frame relay packet multiplexer. In addition to providing frame relay port aggregation, the Frame Relay AWare packet mux provides the 9620's management functions with "logical" visibility and management of all the frame relay packets transmitted or received through the FRAU. This logical PVC-based visibility allows management and testing of individual PVCs without affecting others. Also, the FRAW packet mux acts as a collection point for frame relay packet, PVC, and compression statistics.

The FrameSaver 9620 also provides "traditional" management, control and diagnostics of the "physical" network and DTE port connections. Together, this logical PVC-based and physical device-based network management provide total control of your frame relay network.

Network Management Made Easy

Every network configuration is different. That's why we designed the FrameSaver 9620 with the flexibility to choose between several network management connectivity options, including:
Local or Remote ASCII terminal interface via the COM
port (not shown)

Basic SNMP Telnet support via PPP/SLIP router port or
Ethernet LAN adapter connections

Enhanced SNMP Telnet support via router or network
PVC links
The FrameSaver 9620's FRAW packet mux provides a unique 'enhanced' SNMP management connectivity option that gives network managers an independent and reliable view of

all network access points and provides true PVC-based end-to-end frame relay network testing. There's no costly dial-up fees, no need for external cables, no dependence on extra router ports or a LAN adapter for SNMP connectivity-just simple and dependable network management, the way you like it!
---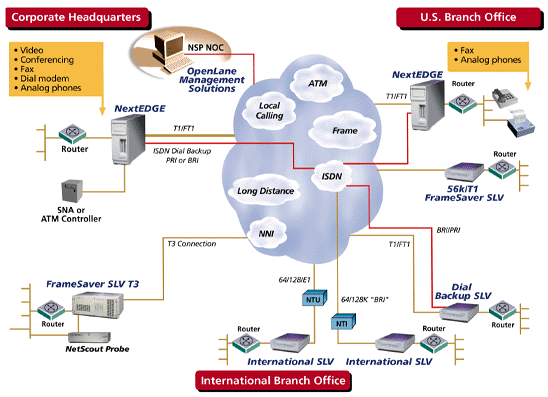 ---
ARC ELECTRONICS
301-924-7400 EXT 25 / 301-924-7400 EXT 25 / fax 301-924-7400 EXT 25
jump to ... Home Page

arc@arcelect.com