RAD AIRMux 5.8 Wireless
Voice Data LAN TCP/IP
RAD's New Wireless Multiplexer Achieves Hybrid
Voice and LAN Connectivity in the 5 GHz License-Free Spectrum
---
License-free band speeds deployment and reduces leased line costs

AirMux-104: 5.725-5.825 GHz (FCC-compliant)
AirMux-106: 5.470-5.725 GHz (ETSI-compliant)


Works with other RAD products to provide a complete, managed communications solution

Offers software configuration of 12 operating channels, simplifying free channel selection and installation and enabling co-location of 12 devices

Support for LAN and E1/T1 in a single device reduces equipment costs

AirMux-104/OD
Point-to-point wireless TDM/IP multiplexer,
outdoor unit (RT)

AirMux-104/ID
Point-to-point wireless TDM/IP multiplexer,
indoor unit (RTCB)
---
License-Exempt Wireless Speeds Deployment and Lowers Costs
The TDM-based, FCC-compliant AirMux-104 wireless multiplexer operates in the 5.725–5.825 GHz spectrum, which many countries are opening up to license-free transmissions due to the overcrowding and resulting interference in the 2.4 GHz license-free band. License-exempt links allow for faster and more affordable deployment, since no frequency coordination and license fees are required.

Supports Ethernet and TDM Circuits
AirMux-104 integrates voice and data, E1/fractional E1 and Ethernet/IP traffic over a 2.6 Mbps full duplex wireless link, extending data and voice transmissions up to 16 km (10 miles). It is a perfect solution for point-to-point applications that call for rapid deployment or a temporary hookup, especially in areas where wireline links are expensive or infrastructure does not exist. The combination of LAN and E1/T1 interfaces of the AirMux saves the cost of an external multiplexer.

A Complete Multiservice Solution with Wireless Connectivity
The AirMux complements various RAD products to offer a complete solution. For example, the AirMux can provide license-free wireless connectivity between sites at which other RAD products perform applications such as grooming, voice and data multiplexing, PBX extension or voice compression. Integrating equipment from one vendor enhances reliability of the solution and provides a single point of contact for the entire network. A single network management system simplifies management of the equipment, especially in large networks.

Diverse Voice and Data Applications
The ability of the AirMux-104 to transport both Ethernet/IP and TDM traffic over a wireless link makes it ideal for a variety of applications, including connectivity of LANs and PBXs at dispersed campus locations, wireless backhauling of cellular base stations, and the Wireless Local Loop (WLL). License-free fixed wireless is also commonly used for backup links and disaster recovery as well as for temporary sites such as army camps, construction sites and mines.
Easy Installation
AirMux implements time division duplex (TDD) technology, for 2-way transmission (transmit and receive) over the same frequency, for a total requirement of 10 MHz channel space. This lets AirMux provide 12 operating channels, facilitating easy selection of a free operating channel for simple installation, and enabling co-location of up to 12 devices at one location. Channels are selected in software only, through the integrated management system, eliminating the need to change hardware as required in other systems.
A different version of the device, the AirMux-106, operates on Band B (5.470–5.725 GHz), frequencies that are commonly reserved for license-free transmission in Western European countries.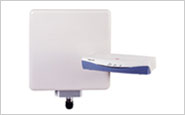 ---
WIRELESS LINK
Technology
Spread spectrum
Frequency Band
5.725–5.850 GHz, as specified by:
ANSI Unlicensed National
Information Infrastructure (UNNII)
ISM
Standards
FCC 15.401&15.407 UNII,
ETSI TS-101-475
Capacity
2.6 Mbps, full duplex
Duplexing Method
Time Division Duplex (TDD)
Channel Bandwidth
10 MHz
Modulation
QPSK
Transmitter Power
16 dBm max
Receiver Sensitivity
-90 dBm at BER 1E-8
Antenna Type and Polarization
Integrated flat panel, vertical and
horizontal polarization
Antenna Gain
23 dBi
Antenna Beam
} 9 , directional
RT Installation Method
Mast or wall mounting
LAN INTERFACE
Type
10/100BaseT, autonegotiation
Framing/Coding
IEEE 802.3/U

Bridging
Self-learning, up to 4000 MAC
addresses
Traffic Handling
MAC layer bridging, self-learning
Line Impedance
100
VLAN Support
Transparent
Data Rate
2.3 Mbps max
Connector
RJ-45
E1 INTERFACE
Framing
G.703, G.704 with or without CRC
Data Rate
N x 64 kbps (n = 1, 2, ..., 32),
user-selectable
Timing
Plesiochronous
Connector
RJ-45
GENERAL
Indicators
SERVICE (green/red) – E1 status
AIR I/F (green/red) – Wireless link
status
RTCB (green) – RTCB self-test
results
RT (green/red) – RT-to-RTCB link
status
PWR (green) – Power status
Upgrade Capabilities
Local and remote software
download
Power
100–240 VAC via external AC/DC
converter
Power Consumption
25W max (RT and RTCB)

Physical
RT (outdoor unit):
Height: 305 mm / 12 in
Width: 305 mm / 12 in
Depth: 72 mm / 2.8 in
Weight 3.3 kg / 7.2 lb
RTCB (indoor unit):
Height: 44 mm / 1.7 in
Width: 237 mm / 9.3 in
Depth: 107 mm / 6.7 in
Weight 0.58 kg / 1.4 lb
Environment
RT:
Enclosure: all-weather case
Temperature: -45–60 C/-49–140 F
RTCB:
Temperature: -5–45 C/23–113 F
Humidity: Up to 90%,
non-condensing

ORDERING PART #s

AirMux-104/OD
Point-to-point wireless TDM/IP
multiplexer, outdoor unit (RT)
AirMux-104/ID
Point-to-point wireless TDM/IP
multiplexer, indoor unit (RTCB)
CBL-AirMux/@
RT-to-RTCB connection cable
@ Specify cable length:
25 for 25m cable
50 for 50m cable
75 for 75m cable
100 for 100m cable
CBL-AirMux-Config
RT-to-RTCB connection cable for indoor
initial setup, 2m long with DB-25 and
16-pin Krone-type connectors
Note:
The CBL-AirMux-Config cable is required
only for initial setup of the system. It is also
recommended to include it into technician kits.
---
jump to other wireless pages
---
ARC ELECTRONICS
a DCE Company
301-924-7400 EXT 25 x 17
e-mail Sales at
drowe@data-connect.com
jump to ... Home Page