RangeLAN2 7401/02 PC Card
The RangeLAN2 7400 PC Card is a high performance RF wireless type II PCMCIA LAN adapter designed to meet the needs of mobile users who require continuous LAN connectivity.
---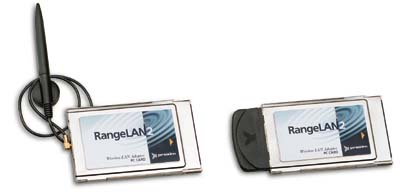 RangeLAN2
7401/02 PC Card
Seamless Connectivity Gives You the Freedom to Roam
The RangeLAN2 7400 PC Card delivers an optimal combination of range, throughput, and low power consumption. Itís the perfect solution for users of laptop PCs, WindowsTM CE devices, and all other devices with standard Type II PCMCIA slots.
Imagine being able to take your laptop or palmtop anywhere in your workplace with unbroken network connectivity. Scan your email while listening to a lecture. Call up an important file during a meeting. Use the web to verify a crucial fact. With the RangeLAN2 7400 PC Card and a RangeLAN2 network backbone in place in your facility, all this is not just possible, but today it is reality for thousands of satisfied customers worldwide.
Power Management That Keeps You On the Move
With Marathon Power Management, the RangeLAN2 7400 PC Card keeps you mobile longer. In most applications, when your device is neither transmitting nor receiving but needs to be network aware, the 7400 slips into doze mode, greatly reducing current draw. Further, the 7400 features the industryís lowest transmit (300 mA) and receive (150 mA) power consumption.
Guaranteed Interoperability
The RangeLAN2 7400, has shrunk its award-winning technology to a single, one-piece PC Card that provides seamless roaming. Free from the burden of older, two-piece designs, even small Windows CE platforms can now benefit from wireless network connectivity. And since the RangeLAN2 7400 fully complies with the OpenAirTM standard, connectivity and interoperability is guaranteed with all of the large base of OpenAir-certified products from the more than twenty companies belonging to the Wireless LAN Interoperability Forum.
Standard Drivers and Software Tools for Easy Network Installation
Site Survey software is provided with each unit to assist in fast and easy wireless network design and installation. With drivers for all major operating systems, the RangeLAN2 7400 quickly becomes a natural wireless extension to your existing Ethernet or Token Ring network.
General
Radio Data Rate
1.6 Mbps per channel, 800 Kbps fallback rate for extended range
Range
With dipole antenna:
~500 feet (~152 m) in typical office environments
~1000 feet (~305m) in open spaces

With snap-on antenna:
~400 feet (~122 m) in typical office environments
~700 feet (~213 m) in open spaces

Channels
Supports 15 independent, non-interfering virtual channels (frequency hopping patterns)
Power Management
300 mA transmit
150 mA receive
average 5 mA doze mode
2 mA sleep mode (all are typical values)
Certifications
Meets FCC Part 15 in the U.S.; ETSI ETS 300.328 and CE EMC-EEC in Europe; applicable MKK standards in Japan
Compatibility
OpenAir-compatibility ensures interoperability with the products of more than 20 Wireless LAN Interoperability Forum (WLIF) member companies
Warranty
1 year parts and labor (return to factory)
Network Information
Network Architecture
Supports ad hoc peer-to-peer networks and infrastructure communication to wired Ethernet or Token Ring networks via Access and Extension Point(s)
Drivers
NDIS 3.1 (Windows 95, Windows NT);
NDIS 2.1 (DOS, Windows for Workgroups);
Windows CE 2.0;
ODI 4.0 (NetWare)
Roaming
Seamless roaming
Domains
Up to 16 domains for simultaneous independent networks
Security
Twenty character alphanumeric encrypted security ID
Installation & Diagnostics
Site Survey Tool included. Surveys other wireless units and spectrum conditions, reports link quality and ping statistics to APs. Desktop icon continuously reports connection status
Radio
Frequency Band
2.4 GHz band. Actual frequencies in use vary by country
Radio Type
Frequency hopping spread spectrum (FHSS)
Output Power
100 mW
Voltage
5 V
Antenna Options
Dipole (1 dBi gain) or Snap-On (0 dBi gain)
Environmental
Temperature Range
-20 to +60 degrees centigrade (operating)
-20 to +65 degrees centigrade (storage)
Humidity (Non-Condensing)
10 to 90 % typical
Physical
Form Factor
PCMCIA, Type II PC Card
Card and Socket Services 2.1 compliant
Weight
1.09 ounces (31 g) PC Card only
Ordering Information
7401
PC Card with Dipole Antenna
7402
PC Card with Snap-on Antenna
OEM Version
Contact Proxim
Accessories Included
Driver and Site Survey Tool diskettes, antenna, and operating manual
---
jump to related wireless pages jump to related Cellular wireless pages
jump to DSSS FHSS Spread Spectrum write-up
---
Jump to
other wireless pages
call 301-924-7400 EXT 25
or e-mail sales
sales@data-connect.com
ARC ELECTRONICS
a DCE Company
jump to ... Home Page
---