2.4 GHz band frequency hopping spread spectrum technology
---
RangeLAN2 7100 ISA Card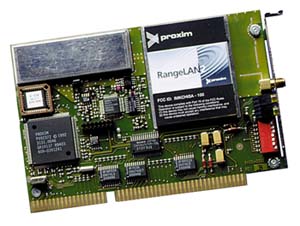 Overview
The RangeLAN2 7100 ISA wireless LAN adapter is a long range, high performance wireless LAN adapter for AT-bus computers and servers. The 7100's data rate of 1.6 Mbps exceeds the data rate requirements of most standard PC applications, making it an ideal wireless platform for high-speed LAN environments. The RangeLAN2 family also delivers the longest range of any wireless product in its class—operating at a distance of up to 500 feet in typical office environments and up to 1000 feet in open space environments. In addition, the RangeLAN2 family provides transparent access to standard wired LAN environments.
The RangeLAN2 7100 provides an easy-to-install wireless extension to existing wired client/server LANs for desktop locations that are difficult or expensive to wire. It can also be used as a standalone peer-to-peer networking solution in smaller companies or departments.
RangeLAN2 Architecture
The RangeLAN2 family sets a new standard for spread spectrum radio design excellence. RangeLAN2 is based on frequency hopping spread spectrum technology in the 2.4 GHz band. RangeLAN2's multi-channel approach enables 15 independent wireless LANs to operate within the same physical space, effectively increasing the aggregate capacity of RangeLAN2 networks by 15 times.
Applications
Low-cost network access point—works with any ISA bus server or PC router
Desktop PC connectivity
Hard-to-wire office locations
Temporary moves
Older buildings
Small businesses, home offices
Classrooms, training centers
General
Bus interface
ISA bus
Range
Up to 500 feet (~150 m) in typical office environments
Up to 1000 feet (~300 m) in open spaces
Radio Data Rate
1.6 Mbps per channel, 800 Kbps fallback rate for extended range
Channels
Supports 15 independent, non-interfering virtual channels (frequency hopping patterns)
Certifications
Meets FCC Part 15 in the U.S.; ETSI ETS 300.328 and CE EMC-EEC in Europe; applicable MKK standards in Japan
Compatibility
OpenAir-compatibility ensures interoperability with the products of more than 20 Wireless LAN Interoperability Forum (WLIF) member companies
Warranty
1 year parts and labor (return to factory)
Network Information
Network Architecture
Supports ad hoc peer-to-peer networks and communication to wired Ethernet or Token Ring networks via Access Point(s)
Drivers Included
NDIS 3.1 (for Windows 95);
ODI (for NetWare, Personal NetWare & others); NDIS 2.1 (for TCP/IP & Microsoft networks)
Media Access Protocol
RangeLAN2 CSMA/CA (Proxim version of CSMA/CA optimized for spread spectrum radio; includes patented contention management protocol)
Error Detection/Correction
Spread spectrum encoding, decoding
Ethernet Standard Compliance
Ethernet packet types
Roaming
Supports RangeLAN2 roaming for seamless roaming among RangeLAN2 Access and Extension Points
Domains
Up to 16 domains for simultaneous independent networks
Security
Hardware scrambling; Software encryption through 15 channels, 16 domains per network, >1 million encryption ID choices per domain
Radio
Frequency Band
2.4 GHz band. Actual frequencies in use vary by country
Radio Type
Frequency hopping spread spectrum (FHSS)
Output Power
100 mW
Environmental
Temperature Range
-20 to +60 degrees centigrade
Humidity (Non-Condensing)
10 to 90 % typical
Ordering Information
7100
ISA Card with antenna
jump to related wireless pages jump to related Cellular wireless pages
jump to DSSS FHSS Spread Spectrum write-up
---
Jump to
other wireless pages
call 301-924-7400 EXT 25
or e-mail sales
sales@data-connect.com
ARC ELECTRONICS
a DCE Company
jump to ... Home Page
---