The Omega-1 is a fully integrated package consisting of a 3-watt cellular transceiver, telephone line interface, 90 to 264VAC power supply board. The enclosure is made from impact-resistant polycarbonate and provides NEMA 4X watertight protection.
---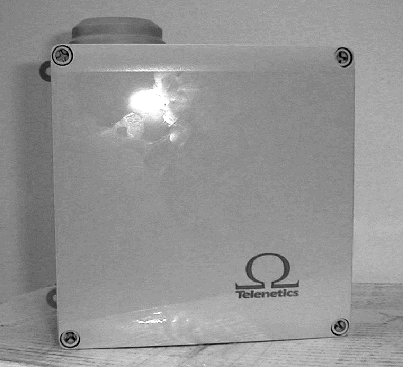 Features:
Telephone line interface emulation for an end point device equipped with an internal modem

Cellular transceiver to provide an analog channel to modem at host end

Large capacity rechargeable battery for power back-up operation

High isolation voltage power supply unit (8K volts)

Wide range input voltage switching supply (90-264 VAC)

Omni-directional antenna for transceiver

Impact-resistant, NEMA 4X non-metallic enclosure

Internal modem options
---
Operation
The Omega-1 unit is designed to connect a remote end point device equipped with an internal modem to a head end computer when a conventional land line is not available. The interface of the modem within the end point device must meet PSTN and FCC-68 requirements and be compatible with all standard TELCO handshake signaling.
Modem Interface
A standard RJ-11 modular jack connector provides the modem interface on the Omega-1. The connection is a standard 2-wire dial line interface that has the following specifications:
| | |
| --- | --- |
| Output ring frequency: | 18 +/- 2 Hz |
| Ring voltage: | 70 volts peak to peak |
| Maximum ringer's equivalent: | 2.0 B |
| Dial tone frequency: | 450 Hz +/- 50 Hz |
| Dial tone level: | 1.0 volts +/- 20% |
| ON/Off-hook current detection: | >4 ma |
| DTMF Dial tone detection: | Yes |
| Pulse dialing support: | Not supported |
---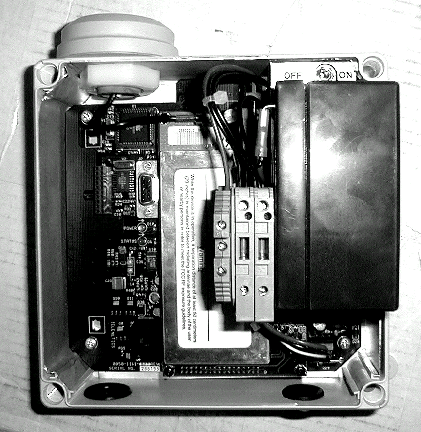 Shown with Optional Battery
---
Cellular Transceiver Interface
The cellular transceiver meets the AMPS standard and conforms to the specifications below:
Model number:

Wireless Link CVDM-3 with data and voice interface module

Operating Frequency:

824 to 893.9 MHz

Number of Channels:

832

Operating voltage:

10.9 to 14.5 volts

DC current requirements:

1.5 amp @ max. transmit power, 100 ma @ stand-by

RF output power:

3.0 watts maximum

Input/output impedance:

50 ohms

Antenna type:

50 ohm,

Omni-directional

VSWR is 1:2.0 or better over operating frequency
Battery Operation
maintenance-free, rechargeable power back-up battery is optional
The Omega-1 can be equipped with a maintenance-free rechargeable battery for continuous operation without interruption in the event that power to the Omega is disabled.

· Battery type: Rechargeable, Lead-Acid, maintenance free

· Nominal output voltage: 12.0 to 12.8 volts

· Charge voltage: 12.0 to 13.2 volts

· Current capacity: 1.5 amp-hour minimum at 25C

· Expected operation life: 5 years

· Operating temperature: -40 to +70 C


Switches and LED Indications



Toggle switches and LED indicators are provided for installation, configuration and trouble-shooting:

Switch controls: AC power ON-OFF
Battery ON-OFF

LED Indications: LED 1: AC Power/Battery Condition


LED 2: Cellular Connection Status

Power Supply

The switching power supply is designed to operate from a wide range of AC input voltages and is isolated against voltage transients:

· AC Power Input: 90 to 264 VAC, 50 or 60 Hz

· DC Power Input: 100 to 150 VDC

· Output DC voltage: 13.2 volt DC +/- 5%, full load

· Maximum output current: 2.0 amperes

· Power Consumption: Idle: 1.3 Watts

· Transmit @ 3 Watts: 16.5 Watts

· Primary to secondary insulation: 8,000 volts peak at 60 Hz

· Battery charge voltage: 12.8 volts DC @ 400 mA

· Input AC fuse rating: 2 amps Slow Blow, 250V

· Surge protection: 1,500 Watt-seconds

Mechanical Specifications

The Omega-1 is designed for indoor and outdoor installation. The enclosure is made of impact-resistant polycarbonate and provides NEMA 4X watertight protection. Mounting feet are provided for surface mounting.
Dimensions: 7.75" High (over antenna) x 7.0" Wide x 4.75" Deep

Mounting Centers: 7.50" x 7.50" (Adjustable, horizontal or vertical)

Weight: 4.0 lbs.

Protection: NEMA 4X, Watertight, Dust-tight

Flammability Rating: UL94-5V

Color: Light Gray
Connectors
AC Power Connector: Fuse Holder Screw Terminal Block 22 – 10 AWG
Device Connector: RJ-11 Modular Jack, 2-Wire Tip/Ring
Battery Power: 2-Position Terminal Block (Factory Connected)
Antenna: SMA Connector (Factory Connected)
Environmental Specifications
Operating Temperature: -30 to + 70o C
Storage Temperature: -40 to +85o C
Operating Humidity: 5 to 90 % non-condensing
Agency Compliance
EMI/RFI FCC-15 Class A computing devices
UL: UL 1950
Surge Protection: IEC 801-4
---
call 301-924-7400 EXT 25
or e-mail sales
sales@data-connect.com
ARC ELECTRONICS
a DCE Company
jump to ... Home Page
---