2.4 GHz frequency band - Frequency Hopping Spread Spectrum (FHSS)
Networked Topology - Point-to-Point Topology - Multipoint Topology
---
RangeLAN2 7910/11 Series Serial Adapter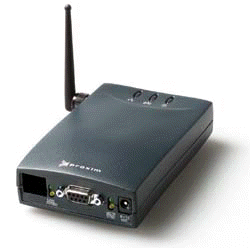 jump to Specifications
Bringing Wireless Connectivity to Serial Devices
The RangeLAN2 7910 Serial Adapter brings standards-based wireless connectivity to RS-232 serial devices. With easy installation, exceptional durability, reliability and outstanding performance the RangeLAN2 7910 will exceed your requirements for industrial-strength wireless connectivity.
Portable RS-232 Devices in Minutes
The RangeLAN2 7910 Serial Adapter is designed for plug-and-play installation. External switches and a simple configuration menu are provided if more detailed installation is required. In just minutes your serial device can be up and running—wirelessly.
No matter what your application—industrial, manufacturing, healthcare, retail, transportation or other—the RangeLAN2 7910 can help you meet your mission requirements at less cost by allowing you to place your RS-232 devices optimally for most efficient workflow. Your manufacturing lines become more flexible. PLCs and sensors can be set up to transmit and receive data over several miles. Retail sales stations can be added to handle seasonal surges in demand. Monitors and analyzers can be moved rapidly to the point of care. All without the hassle and added expense of wiring.
Connectivity Options to Meet Your Needs
A full range of connectivity options are available to meet your wireless RS-232 device needs:
Point-to-point: Communicate between two serial devices without cables.
Multipoint: Communicate to several serial devices from one control unit.
Networked: Communicate through a RangeLAN2 network in either a point-to-point or a multi-point topology to one or several serial devices.
Designed for Industrial and Manufacturing Environments
This small, lightweight unit is rugged enough to be placed in the harshest of industrial or manufacturing environments. The RangeLAN2 7910 Serial Adapter brings connectivity to your most difficult locations with its wide temperature range and robust mechanical design. In addition, the unit offers multiple antenna options to meet the service area coverage you require and a NEMA 4 enclosure for outdoor use.
---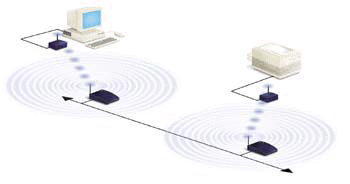 Networked Topology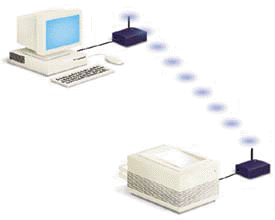 Point-to-point Topology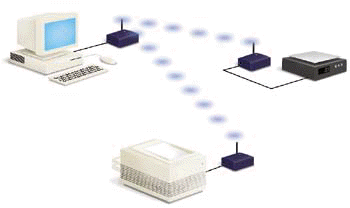 Multipoint Topology
General
Architecture
Point-to-Point, Multipoint, and Networked
Radio Data Rate
1.6 Mbps per channel, 800 Kbps fallback rate
Channels
Supports 15 independent, non-interfering "virtual channels" (hopping patterns)
Range
Up to 500 feet (~150 m) radius indoors
1,000+ feet (300+ m) radius outdoors
XR technology can increase coverage up to 30% indoors and 100% outdoors
(More with optional antennas)
Power Management (9V)
Typical operating power: 240 mA
Typical sleep: 75 mA
Certifications
US - FCC Part 15
International - Contact Proxim for a list of currently certified countries
Compatibility
Fully interoperable with all RangeLAN2 or OpenAir-certified products
Warranty
1 year parts and labor (return to factory)
Serial Information
Baud Rates
300, 1200, 2400, 4800, 9600, 19200, 38400, 57.6K and 115.2K
Data Formats
7 or 8 data bits; 1 or 2 stop bits; even, odd or no parity, mark and space
Flow Control
Full Hardware and software flow control supported
Connector
Female 9-Pin DSub
Network Information
Network Architecture Types
Communicates to wired networks via a RangeLAN2 Access or Extension Point
Network Protocols
TCP/IP and UDP/IP
Roaming
Supports RangeLAN2 roaming for seamless roaming between RangeLAN2 or OpenAir-certified Access Points
Domains
Up to 16 domains for simultaneous independent networks
Security
Encrypted Security ID
Management
Hardware Switches
For plug and play operation:

Master/Station rotary switch
10 position domain switch

Physical Management Connections
DB9 plug with standard serial cable
(shipped with unit)
Software Upgrades
Downloadable over the serial port
Radio
Frequency Band
2.4 GHz frequency band. Actual frequencies in use vary by country
Radio Type
Frequency Hopping Spread Spectrum (FHSS)
Radio Output Power
100 mW, 500 mW with XR technology
(varies by country, not user-configurable)
Environmental
Temperature Range
-20 to 60 C degrees centigrade
Humidity (non-condensing)
20 to 90% typical
Enclosure (available separately)
Optional NEMA 4 rain and splash proof; heater option; RF connectors
Physical Specifications
Weight
9.2 ounces (260 grams)
Size
5.40" L x 3.30" W x 1.35" H
(1.37 cm x 8.4 cm x 3.4 cm)
(width does not include the antenna connector)
Input Voltage
6 to 15 VDC (2.5 mm DC power jack)
Accessories Included
Operating Manual
Power supply
1 dBi omnidirectional antenna
Serial Cable
Switch plugs
Switch setting tool
Ordering Information
7910
RangeLAN2 Serial Adapter, 100mW
7911
RangeLAN2 Serial Adapter XR, 500mW*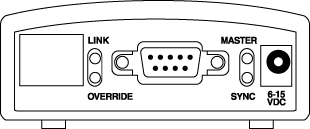 *XR technology may not be available in all countries due to local regulatory requirements.
---
jump to related wireless pages jump to related Cellular wireless pages
jump to DSSS FHSS Spread Spectrum write-up
---
jump to
other wireless pages
call 301-924-7400 EXT 25
or e-mail sales
sales@data-connect.com
ARC ELECTRONICS
a DCE Company
jump to ... Home Page