Series 800/802
Wireless Video Transmission Links



FEATURES:



he Series 800 and 802 Microwave Video Transmission Links are the cost effective answer for wireless video transmission requirements across the street or across the city in full color or black and white. Applications include remote surveillance, industrial, institutional, remote telemetry, production control, and video teleconferencing. In addition, built-in sub-carriers are capable of carrying an analog or digital signal for remote camera control: pan, tilt, zoom, and switching. High selectivity and precise antenna beam control enables the links to be located close together for multiple channel operation. The FM superheterodyne design assures superior picture quality in adverse weather conditions.

Flexibility
The simplex video transmission series has the capability of providing subcarriers for transmitting audio or data information. These subcarriers interfaces include audio/FSK, RS-232, RS-422, and most all camera control system interfaces. These subcarriers may be used for two-way (duplex), audio, camera control, or video switching. This two-way data transmission also makes it possible to remotely operate card readers, gates, and turnstiles. When multiple subcarriers are used, a separate desktop BMS unit is provided which includes a built-in 24vdc power supply. Rackmount and weather-resistant outdoor BMS modules are available.

All systems are individually tuned to an assigned frequency to ensure interference free operation and provide a reliable communication link. Frequency and FCC license easily obtained. No customer adjustments are required.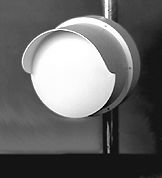 The Series 800/802 Microwave Radio System offers following features:
FM Superheterodyne Operation

Compatible with NTSC or PAL Color Video

Transmits up to 3 Miles (4.8km)

Compact Size, with 9 inch (23cm) antenna

Low Power Consumption

Quick and Easy Installation

Licensed frequency for secure interference free operation