BlueTree GSM-GPRS
Cell Cellular Modem with GPS
The BT-2010 GSM GPRS cell modem is designed to military (MIL) and automotive (SAE) specifications for ruggedness in harsh environments, including temperature, humidity, vibration and shock. Integrated mounting feet make it suitable for mounting in a vehicle or other harsh environments
BT-2010 GPRS Standard GSM Cellular Modem with GPS

RUGGED - RELIABLE - HIGH PERFORMANCE
---
Rugged Design

Dual-Band GPRS 850Mhz and 1,900Mhz

High-Speed Data

Maximum Power and Coverage

Standard Communications Protocols

Modem Management Software - BlueVue

Proven Reliable RF Module

GPS
The BT-2010 modem is designed to military (MIL) and automotive (SAE) specifications for ruggedness in harsh environments, including temperature, humidity, vibration and shock. Integrated mounting feet make it suitable for mounting in a vehicle or other harsh environments
The BT-20x0 modem supports both North American GPRS frequencies, including 850 MHz and 1,900 Mhz.
The BT-2010 supports GPRS Class 8, meaning it provides the highest possible throughput available on GPRS networks (up to 56 kbps).
The BT-2010 modem uses a full power transceiver and high-efficiency screw-on antenna connector. Users benefit from optimum signal strength and coverage.
The BT-2010 modem supports: GPRS packet data connections CSD circuit-switched (dial-up) data connections Serial RS-232 (or optional USB adapter)
Communications protocols: AT commands and PPP
BlueVue modem management software provides a Windows™-based graphical interface that allows you to: Program the modem Monitor status of connections Initiate connections/data sessions View diagnostic info, such as signal strength, and network status GPS - display and redirection
The BT-2010 uses the RIM1902G GPRS RF module. The result is the ultimate in reliability from the industry leaders in GPRS technology.
The BT-2010 provides standard GPS. The modem incorporates an internal Trimble Lassen SQ GPS module and supports standard TSIP, TAIP and NMEA 0183 protocols. The GPS information is available on the secondary serial port.
Customers benefit from the support of our Value-Added Resellers and from the knowledge of BlueTree's development team. Our 1-year warranty is included, plus optional 3-year extended warranty for total protection.
BlueTree focuses exclusively on wireless modems for mobile and industrial applications. The BT-series modem provides all the ruggedness you need without additional features you don't.
---
APPLICATION EXAMPLES

other Emergency Services

Public Transit and Transportation

Vehicle Tracking - AVL

Field Service & Mobile

Dispatch

Utility Automatic Meter

Reading (AMR)

Automated machine-to-machine

(M2M)

Telemetry and SCADA
---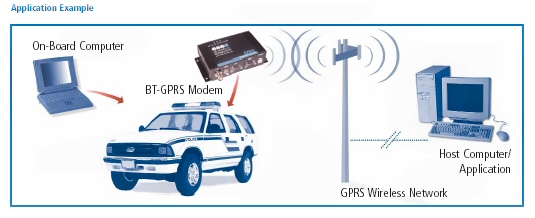 ---
BT-2010 GPRS Standard GSM Cellular Modem with GPS PDF sheet
---
call 301-924-7400 EXT 25
or e-mail sales
sales@data-connect.com
ARC ELECTRONICS
a DCE Company
jump to ... Home Page
---