---
Link1 TADILB Modem - FSK Analog Modem, V.23, Sync or Async
---
| | |
| --- | --- |
| | PC ISA Card Format |
---
Full duplex rates to 1200 bps (in async V.23 mode)
Asynchronous or synchronous RS-232
4-wire, full duplex line application
Standalone or rack mount
PC card rack mode (PC supplies power and ground only)
High stability transmit and receive frequency
Ruggedized for full temperature range application
---
The Link1 TADILB modem operates at 600 and 1200 bps, synchronous or asynchronous, with V.23 modulation. The modem accepts external transmit clock on pin 24. The modem operates in Link1 DFSK mode (differential frequency shift key) at 600 and 1200 bps. Full 13.5" PC card, 7.25" half card size, and standalone configurations are available. The pc card uses the internal pc ISA bus only for power from the pc bus. The serial terminal interface is RS-232, DB-25. The phone line connector is an RJ-11 for 4-wire leased line operation. Transmit is on positions 2 and 3, receive 1 and 4 of the 4 position RJ-11 connector.
The modem has DIP switch controls for the TADIL-B (V.23) or LINK1 mode, for 1200 or 600 bps operation, for 4 or 8 ms RTS/CTS delay, for constant carrier (RTS forced on) or terminal controlled RTS, and transmit level settings of +3, 0, -16 and –30 dBm. The modem has a push/push switch for local digital loop on or off. The DIP switch is located on the PC card and is accessible behind the front panel of the standalone modem. The loopback switch is located on the rear of the unit, next to the DB-25 terminal connector.
---
Analog full duplex
4-wire, 600 ohm balanced
Frequency Shift Keying with the following logic:

Mark 1300 hertz at 600 and 1200 bps
Space 1700 hertz at 600 bps
2100 hertz at 1200 bps

DFSK. Differential Frequency Shift Keyed (Link1 mode)
600 and 1200 bps
Transmit and Receive clock supplied by modem
Modem supplies transmit clock and recovered received clock, allowing the modem to run sync or async without a switch
Transmit level control from +3 dBm to -30 dBm, implement as +3, 0 –16 and –30
The modem operates with no errors when signal interruptions occur at less than 1/4 of a bit length (300 microseconds) at the selected bit rate
The modem operates with no errors when the signal level changes up to 25 dBm
The modem will drive up to 100 meters of cable (approximately 30 Km cable, depending upon wire gauge)
Switched carrier or constant carrier operation (RTS forced on or terminal controlled)
RS-232, DB-25S
Signals are Tx, Rx, RTS, CTS, DSR, DCD, TxClock, RxClock, Ext TxClock
RTS/CTS delay is 4 or 8 ms in switched carrier mode. In constant carrier mode RTS/CTS is forced on
Rx data is clamped to mark when no receive carrier detect is present. Rx clock continues to run when carrier detect is off
Power, Tx Data, Rx Data, RTS, CTS, DCD, Test
Power turns on when the modem is powered
TxData and RxData LED's light for RS232 SPACE condition
RTS, CTS and DCD LED's light for RS232 HIGH condition
Digital loop via rear panel switch. Test LED lights during test. Loopback on when switch is pushed in, Loopback is off when switch is out
Switch for mode, speeds, RTS control, RTS/CTS delay, clocking, transmit levels
Controlled carrier (with RTS/CTS delay) or constant carrier with RTS/CTS on
RTS/CTS delay of 4 or 8 ms
Analog Loop or normal operation
Internal timing or external transmits timing
Synchronous speeds of 600 or 1200 bps
Transmit level of +3 db, 0 db, -16db or -30db
L1 (DFSK Mode) or TADILB (V.23 mode)
---
---
OPTION SWITCH SETTINGS
| | | |
| --- | --- | --- |
| Switch | DOWN | UP |
| 1 – mode | TADIL-B mode (V.23) | LINK1 mode |
| 2 – Speed | 1200 bps | 600 bps |
| 3 - RTS/CTS delay | 4 ms | 8 ms |
| 4 – Carrier | Constant | RTS controlled |
| 5 – Clocking | Internal TxClock | External (pin 24) |
| 6 - Tx Level | see table | |
| 7 - Tx Level | see table | |
| 8 - Loopback | Loopback ON | Loopback OFF |
Transmit Audio Level Settings:
| | | |
| --- | --- | --- |
| Level | Switch 6 | Switch 7 |
| +3 dBm | UP | UP |
| 0 | UP | DOWN |
| -16 (-8 on rev A) | DOWN | UP |
| -30 (-16 on rev A) | DOWN | DOWN |
---
-35C to +70C operating temperature range
PC ISA bus format or standalone version
PC bus is used for power and ground only, standalone unit uses 110V wall mount supply
Half size PC card, 7"D x 4.25"H
Stand alone: 5.5" W x 7.375"D x 1.5" high, 110VAC wall mount supply
A 1.5" x 19" fixture is available for rack mounting up to 3 standalone units in a single 1U height
20 slot rack chassis is 16.5"W x 16"D x 7"H, 110VAC 250 W power supply
Wall-mount power supply 120VAC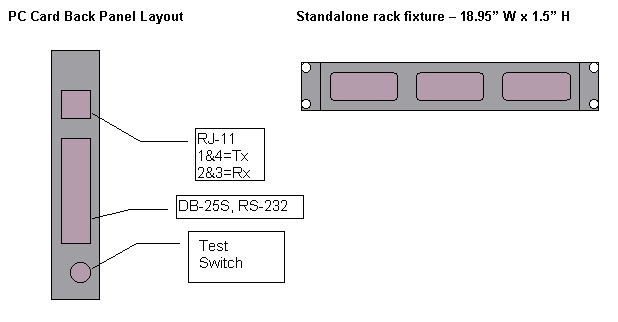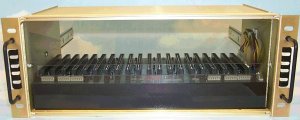 PC Card Rack Chassis
---
The Link1 TADILB modem is normally used with standards based equipment that requires reliability rather than speed. The PC ISA format card is used in a standard PC ISA chassis. It draws power from that chassis and has no other internal chassis connections. There is a 20 slot ISA chassis available for this format with built-in power supply. The stand-alone model uses a wall-mount AC power supply. There is a 3 unit rack mount available for the stand-alone model.
---
Related pages
---
ARC ELECTRONICS
301-924-7400 EXT 25
jump to ... Home Page

arc@arcelect.com