Adtran NetVanta T1 Access Router
Adtran NetVanta 3000 Routers at killer discounts
NIM: 56/64K, T1/FT1, T1/FT1 with DSX-1, and Serial
Built-in DSU/CSU for circuit protection
Industry-leading 5 year warranty
see other NetVanta pages
see the new NetVanta 900
---
Modular Network Interface Module (NIM) offering flexibility

Modular Dial Backup Interface Module (DIM) guaranteeing bandwidth

Command Line Interface (CLI) that mimics defacto industry standard

Auto-sensing 10/100BaseT Ethernet interface for flexible connectivity

Built-in DSU/CSU for circuit protection

ADTRAN's Safe-T-Net disaster recovery solution

Feature-rich ADTRAN Operating System (OS)

Industry-leading 5 year warranty
The NetVanta 3000 routers from ADTRAN™, offer small-to-medium size businesses the most cost-effective way to connect branch offices together using Frame Relay. These versatile platforms are modular in design and are a full-featured, low-cost alternative to other brand name routers. They include a single slot used to house a variety of interchangeable Network Interface Modules (NIMs) and Dial Backup Interface Modules (DIMs).
---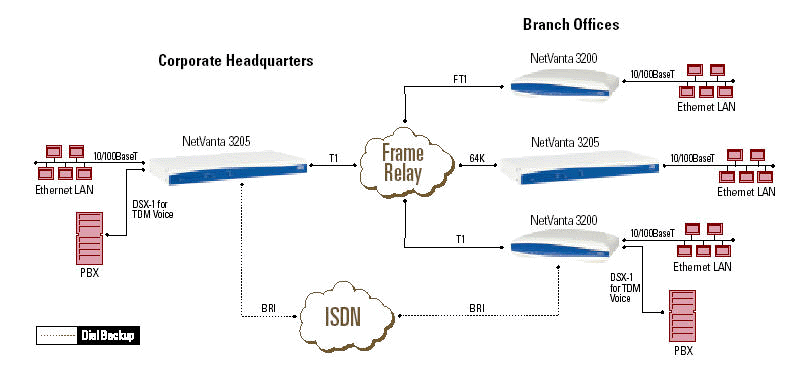 As the diagram indicates, the corporate site houses a NetVanta 3205 connecting a full T1 to a public Frame Relay network. This connection requires a T1/FT1 with DSX-1 NIM to carry digital voice and data, and it also includes an ISDN BRI DIM for added disaster recovery security. At the first branch office the NetVanta 3200 is equipped with a T1/FT1 NIM and terminates a fractional T1 for data applications. A 64K line is terminated at the second office using a NetVanta 3205 that includes a 56/64K NIM. At the third branch office, a full T1 is needed to carry both digital voice and data traffic, therefore requires a NetVanta 3200 equipped with both a NIM and a DIM. A T1/FT1 with DSX-1 NIM is used to terminate the T1 and the DSX-1 interface is used to drop-off the digital voice to a local PBX. If the primary link is compromised, ADTRAN's Safe-T-Net™disaster recovery solution will dial around the failed network using the ISDN BRI DIM, allowing for guaranteed bandwidth for mission critical applications like digital voice.
Functioning as the intelligence behind the information flow, the ADTRAN Operating System (OS) makes quick and responsive IP routing decisions. The ADTRAN OS supports static and default routes, and allows for fast, accurate network convergence supporting routing protocols like RIP version 1 and version 2. From a management perspective all the NetVanta 3000 Series are centrally managed using the Command Line Interface (CLI). ADTRAN's CLI mimics the industry defacto standard eliminating any re-training cost, and requires no costly industry certification courses. The versatile NetVanta 3000 Series is a complete turnkey solution with unsurpassed performance for customers requiring wide area connectivity. The NetVanta 3000 Series can effortlessly merge into an existing network with other brand name routers without disrupting day-to-day networking operations. In addition, these products are backed by an industry-leading 5-year warranty and ADTRAN's world-class 24-hour technical support.
---
Adtran NetVanta 3000 Routers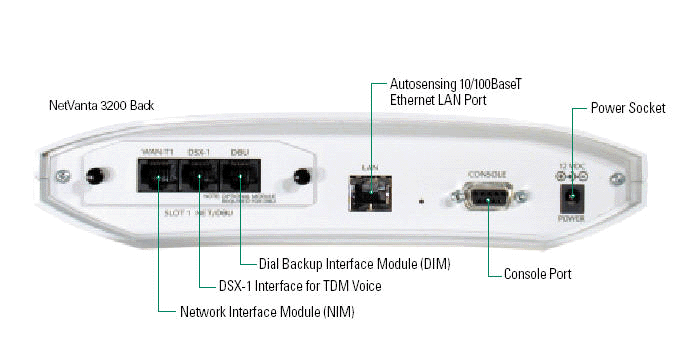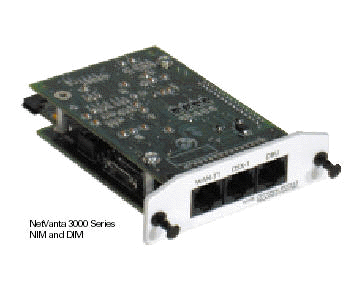 ---
Product Specifications for the Adtran NetVanta 3000 Routers
PHYSICAL INTERFACE
NIM: 56/64K, T1/FT1, T1/FT1 with DSX-1, and Serial
DIM: Analog Modem and ISDN BRI
LAN: Auto-Sensing 10/100BaseT Ethernet Port (RJ-45)
Console Port
DIAGNOSTICS
Front Panel Status LEDs
Power
WAN – link, transmit, receive
LAN – link, transmit, receive
Dial backup – transmit and receive
MEMORY
RAM: 16 Mbs
FLASH: 8 Mbs
PROCESSOR
Motorola MPC 860
80 MHz
ENVIRONMENT
Operating Temperature: 0° to 50 °C (32° to 122 °F)
Storage Temperature: -20° to 70 °C (-4° to 158 °F)
Relative Humidity: Up to 95%, non-condensing
PHYSICAL
NetVanta 3200
Chassis: Self-standing desktop unit with plastic enclosure
Dimensions: 1.625" H, 9" W, 6.375" D
Weight: 2 lbs.
Power: 100-250 VAC, 50/60 Hz
NetVanta 3205
Chassis: 1U, rack-mountable metal enclosure
Dimensions: 1.25" H, 17.25" W, 7.75" D
Weight: 7 lbs.
Power: 100-250 VAC, 50/60 Hz
AGENCY APPROVALS
FCC Part 68
Industry Canada CS03
UL & Canadian UL (CUL), IEC/EN, CSA
CE Mark
PRODUCT INCLUDES
User Manual
Quick Start Guide
AC Power Cord
---
NetVanta 3200 Chassis

1202860L1

Standalone access router for Internet access, public and private Frame Relay, leased line connections, and VPN supporting line rates from 56k to dual T1s.

NetVanta 3200 Chassis with Enhanced Feature Pack Software

4200860L2

NetVanta 3200 Chassis preconfigured with Enhanced Feature Pack Software

NetVanta 3200 with 56/64k NIM

4200861L1

NetVanta 3200 preconfigured with 56k/64k NIM installed

NetVanta 3200 with 56/64k NIM VPN Bundle

4200861L2

NetVanta 3200 preconfigured with 56k/64k NIM with Enhanced Feature Pack Software

NetVanta 3200 with T1/FT1 NIM

4200862L1

NetVanta 3200 preconfigured with T1/FT1 NIM installed

NetVanta 3200 with T1/FT1 NIM VPN Bundle

4200862L2

NetVanta 3200 preconfigured with T1/FT1 NIM with Enhanced Feature Pack Software

NetVanta 3200 preconfigured with T1/FT1 + DSX-1 NIM

4200863L1

NetVanta 3200 preconfigured with T1/FT1 + DSX-1 NIM installed

NetVanta 3200 preconfigured with T1/FT1 + DSX-1 NIM VPN Bundle

4200863L2

NetVanta 3200 preconfigured with T1/FT1 + DSX-1 NIM with Enhanced Feature Pack Software

NetVanta 3200 w/Dual T1/FT1 NIM

4200865L1

NetVanta 3200 preconfigured with T1/FT1 NIM with Enhanced Feature Pack Software

NetVanta 3200 with Serial NIM

4200866L1

NetVanta 3200 preconfigured with Serial NIM installed

NetVanta 3200 with UK Power Supply

4202860L1#UK

NetVanta 3200 w/VPN and UK Power Supply

4202860L2#UK
---
jump to Related Adtran pages
---
ARC ELECTRONICS
301-924-7400 EXT 25
jump to ... Home Page

arc@arcelect.com