Motorola UDS DDS/MR64 CSU/DSU

Designed for use on the Digital Data Service (DDS) network, the Motorola UDS DDSMR64 combines the functions of a DSU and CSU into a single unit. It operates in either point-to-point or multipoint applications, transmitting synchronous data at rates from 2400 bps to 64,000 bps clear channel, and asynchronous data from 2400 bps to 57,600 bps. The UDS DDSMR64 complies with Bell publications 62310 and 41450 and is directly compatible with Bell 500 series DSU and CSU equipment.

part numbers for in production units

UDS Motorola Telenetics DDS MR64 refurbished used new
TEL-6456524700010 DDSMR64 Nest Card
UDS Motorola Telenetics DDS MR64 refurbished used new
TEL-6456524700020 DDSMR64 Standalone
---
Motorola / UDS
DDS/MR64 CSU/DSU
TEL6456524700020
TEL6456524700010
Features and Benefits

High speed asynchronous capability operating a 38,400 and 57,600 bps on 56K lines allows direct connection of high speed asynchronous DTEs to DDS lines.

Switchable EIA-232 and CCITT V.35 interface allows a single model to provide both interfaces.

Provides highly reliable digital performance on both conventional DDS networks or as a limited distance modem, so that one model can be used for either interstate or interoffice communications.

Operates at all DDS line rates from 2400 bps to 64,000 bps including 19,200 bps to accommodate a wide range of DTE devices.

Automatic line equalization compensates for distortion and attenuation caused by line length without user adjustment.

Convenient front panel LCD control allows viewing current configuration and status without causing an interruption of dam.

Saves operating configuration to nonvolatile memory, eliminating having to setup every time the unit is turned on.




UDS DDSMR64 SA part #
TEL-6456524700020 S/A
TEL-6456524700010 card
jump to PDF file of manual
---
Specifications
Data Rates (DDS network)
2400, 4800, 9600, 19200, 56000 or 64000 bps synchronous (up to clear channel 64); 2400, 4800, 9600, 19200, 38400, or 57600 bps asynchronous
Data Rates (4-wire, private networks)
2400, 4800, 9600, 19200, 56000, or 64000 bps synchronous; 2400, 4800, 9600, 19200, 38400, or 57600 bps asynchronous
Operating Mode
DDS full-duplex, multipoint; DDS full-duplex point-to-point; 4-wire full-duplex; 4-wire half-duplex or simplex Data Format Serial binary, synchronous, asynchronous
Data Encoding
Bipolar, return-to-zero, per Bell System Publication 62310
Timing
DDS; external; internal
Transmission Facility
Unloaded metallic circuits, 19 to 26 gauge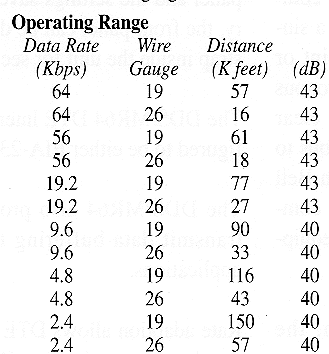 System Impedance
Line receiver input impedance: 135 ohms ±10% Transmit pair output impedance: 135 ohms ±10%
Output Signal
0.7854 ±0.05 volts across 135 ohms at 9.6 kbps 1.4 ±0.1 volts across 135 ohms at all other rates
RTS/CTS Delay
Data Rate Typical Delay
(kbps) (ms)
64 0.6
56 0.6
19.2 1.2
9.6 2.2
4.8 4.2
2.4 8.2
Digital Interface
EIA-232D; CCITT V35
Power Requirements
110 VAC, 47 - 63 Hz
Power Consumption
5 watts nominal
Environmental
0' - 50' C; 95% humidity, noncondensing

part numbers for in production units
New # Telenetics DDSMR64 TEL6456524700010 DDSMR64
refurbished used new Nest Card CSU/DSU
Old # UDS Motorola DDSMR64
refurbished used new 6456524700010 DDSMR64 Nest Card CSU/DSU
New # Telenetics DDSMR64 TEL6456524700020 DDSMR64
refurbished used new Standalone CSU/DSU
Old # UDS Motorola DDSMR64 refurbished used new
6456524700020 DDSMR64 Standalone CSU/DSU
---
Test Features
The DDS/MR64 has a number of diagnostic tests available for troubleshooting problems.
Remote loopback with test pattern
Local loopback with test pattern
End to end test pattern
Remote terminal loopback
Local loopback
Remote loopback
The DDS/MR64 also responds to telephone company generated DDS diagnostic tests. An internally generated 5 11 test pattern can be used in combination with other test features to perform self-test functions.
---
Indicators
Six LEDs provide status information:
TM (Test Mode)
OS (Out of Service)
TD (Transmit Data)
RD (Receive Data)
CS (Clear to Send)
NS (No Signal
---
---
ARC ELECTRONICS
301-924-7400 EXT 25
jump to ... Home Page

arc@arcelect.com