ConnexLink Data Radios
frequency-hopping spread spectrum
---
ConnexLink
Plug-and-play RS232 FHSS transceivers enable local-area communication in industrial, commercial and office applications. Powered by a 10mW or 200mW radio in the license-free 2.4 GHz ISM band. ConnexLink is an ideal solution for serial data communications.
How it Works
The complete system is comprised of a central ConnexLink node (server) and any number of remote nodes (clients) that operate in point-to-point or point-to-multipoint configurations. Users can create multiple sub-networks by assigning unique radio addresses to specific device groups. ConnexLink is the most flexible, affordable RF serial data device available for both consumers and OEMs. The system can be set up in minutes. And because it uses frequency-hopping spread spectrum technology, it provides reliable communication at up to 115.2 Kbps even in RF-hostile environments.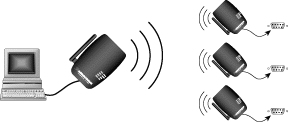 The 2.4 GHz ISM band is approved virtually worldwide as an unlicensed radio spectrum subject to approval by device. ConnexLink transceivers are approved for operation by FCC (USA), IC (Canada) and CE (Europe). No additional certification is required.
---
Dimensions
4.4 x 2.7 x 1.4 inches (111 x 69 x 36 mm)
Weight
6 oz (170 g)
Cord Length
6 feet ( 183 cm)
Interface

Serial RS232 DB9 female connector

RS232 Data Rates

Configurable up to 115.2 Kbps

Output Power

10mW or 200mW

Transmission Range

Up to 500 feet (152 m) indoors;
Up to 10,000 feet (3050 m) line-of-sight

Frequency Band

2.402 - 2.478 GHz, FHSS

Power Supply

6-foot cable, AC power connector

Power Consumption

115mA typical (10mW radio);
400mA typical (200mW radio)

Electrical Requirements

Line voltage 100 - 120V (240V outside US);
Frequency 50 - 60 Hz

Environmental Conditions

Operating temperature 0 - 60 degrees C

Configuration Software

Optional easy-to-use software for Windows
---
Weigh Scales

Easy-to-install ConnexLink replaces cable for retro-fitting and new installs, so you can access weight and measurement data wirelessly.
Process Control
Set up any factory more conveniently. Process engineers can quickly move RS232 links from machine to machine without costly wiring.
Kiosks & P.O.S.
Small and portable, ConnexLinks make it possible to set up equipment where it best serves customers. Use at retail stores, service stations, events, etc.
Data Logging
Upload data to your PC from your loggers or monitors without getting up from the chair. Use ConnexLinks for tank level monitoring, control instruments, etc.

Electronic Signs
Faster, cheaper and less invasive than trenching to lay cable, ConnexLinks simply attach to the serial ports of the PC sign or scoreboard.
---
jump to User Manual
ConnexLink
PRODUCT DESCRIPTION:
PART NUMBER:
ConnexLink, 10mW radio, RS232, antenna, power supply
CL10
ConnexLink, 200mW radio, RS232, antenna, power supply
CL200
ConnexLink 10mW "Starter Pack" set of two (2) pre-configured CL10
CL10-SP
ConnexLink 200mW "Starter Pack" set of two (2) pre-configured CL200
CL200-SP
ConnexLink units come with a choice of internal or external antennas.
---
jump to other Connex pages
jump to other wireless pages
---
ARC ELECTRONICS
a DCE Company
301-924-7400 EXT 25 x 17
e-mail Sales at drowe@data-connect.com
jump to ... Home Page