Cell-Cellular 3 Watt Modem
---
3 Watt analog modem VDC power - low power sleep mode - supports the MNP10™
protocol for enhanced cellular performance and optimized throughput.
see other Digital cell modems GSM-GPRS, CDMA 1xRTT
| | |
| --- | --- |
| | |
By installing a wireless data modem on their remote equipment, end users alleviate the need for costly wire line communications or human intervention in the daily supervision of these devices.

Operating at a baud rate between 9.6 Kbps and 14.4 Kbps, the BlueBird series is packaged with a cellular transceiver that allows it to fluently perform on analog. The BlueBird wireless data modem can be connected to a wide array of data collection devices through an industry-standard RS-232 serial port. This configuration allows end users to monitor the remote device by simply dialing in the telephone number assigned to the modem. Upon initiating a session, end users may receive data on the operational status of the field-installed asset while sending commands to rectify identified problems. All units in the BlueBird product line boast a standard complement of value added features that are listed as follows:
Remote Hard Reset:
In the event that a "hard power-on" is required, the wireless data modem allows end users to remotely reboot the field-installed asset.
Shut Off Protection:
Automatically restarts the field-installed asset after a power loss to minimize equipment downtime.
Auto Retry:
Recognizes "Fast Busy" and "No Service" conditions to automatically retry the connection thereby guaranteeing that the call is completed regardless of the network status.
MNP10™ Error Correction:
Supports the industry-standard MNP10™ to ensure the integrity of data over a variable signal and enhance wireless communications performance.
Single Power Source:
Only one power source is required for both the wireless data modem and the cellular phone thereby increasing portability and simplifying installation.
Remote Diagnostics:
Allows the status of the wireless network and cellular phone to be remotely checked for signal strength and conditions such as "Locked" to reduce the need for on-site intervention


---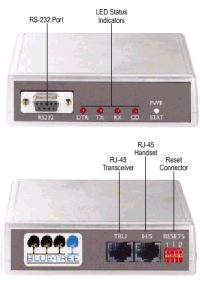 BlueTree Wireless Data currently offers two models in the BlueBird product line. The BlueBird-3 is based on analog cellular networks to provide the greatest possible coverage area of any existing wireless communications technology. This 3 Watt analog modem connects to a Motorola 3 Watt transceiver and supports the MNP10™ protocol for enhanced cellular performance and optimized throughput.

The BlueBird-P is a cellular-based wireless data modem that represents a logical evolution from the previous model. This 0.6 Watt modem supports all the same features as the BlueBird-3 except that it connects to a 0.6 Watt Motorola portable cellular telephone. As such, the BlueBird benefits from lower power consumption as well as a significantly reduced footprint for increased flexibility and portability.

BlueTree Wireless Data has traditionally experienced a high level of success in marketing the BlueBird series of wireless data modems to customers in the energy, transportation and security segments. One of the first commercial applications for this product line was developed for Hydro-Québec, a leading Canadian producer and distributor of hydroelectric energy. In this case, BlueTree Wireless Data integrated the BlueBird wireless modem and a Motorola transceiver within a compact, portable data terminal. These terminals were then employed by Hydro-Québec's field staff to log power consumption data.

jump to modem specifications pages
jump to manual PDF pages


The company's off-the-shelf solutions target end user applications in various segments of the industrial market such as energy, chemicals, transportation and mining as well as oil and gas, among others. In all cases, potential applications involve the management of remote devices from a central site to provide an enhanced level of supervisory control without the need for costly on-site intervention. Although each product can be independently employed as a standalone solution, they are also designed to function as an integrated product set.

BlueTree Wireless Data's product portfolio is distinguished from competing solutions by an unparalleled level of flexibility, portability and scalability. The company's products provide a turnkey solution for countless industrial applications across a wide range of market segments. The accompanying chart highlights only a few of the many value added applications of BlueTree Wireless Data's unique product portfolio.


Some of the uses our customers have
found for Cellular data communications
Monitor Water Levels
Activate Generators
Adjust Electrical Consumption
Detect Corrosion
Track Inventories
Enable Point-of-Sale Terminals
Regulate Oil Pressure
Send Text Messages
Turn Off Ventilation Systems
Close Valves
Perform Diagnostics
Dispatch Mobile Assets
Check Voltages
Open Flood Gates
Analyze Ambient Temperature
Verify Power Loss
Reset Intrusion Alarms
Observe Surveillance Cameras
Trigger Panic Buttons
Deactivate Heating Systems
Synchronize Traffic Lights
Turn On External Lighting
Read Gas Meters
Measure Flow Rates
Control Motor Speeds
Log Volume Changes
Transmit Security Data

BlueChip Wireless Control Device

BlueTree Wireless Data's second product family consists of an innovative portfolio of wireless control devices. These products provide end users with a superior level of control over multiple inputs and outputs for remote devices in both commercial and industrial applications. By installing a wireless control device on their remote equipment, end users benefit from an enhanced set of features that virtually eliminate the need for wire line connectivity and costly human intervention.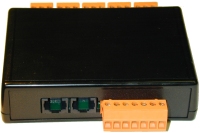 The BlueChip is capable of simultaneously supporting up to five different inputs that are typically used for monitoring temperature, pressure, volume and other variables. The BlueChip can also be connected to five outputs that are usually remote devices that end users wish to control. In the event that an input switch is triggered during normal operation, the BlueChip goes into alarm mode. The BlueChip is also programmed to initiate an alarm state if any one input goes offline or loses power.

Upon receiving an alarm, the BlueChip provides automatic feedback to end users, through a PCS telephone, PC or pager, to inform them that one or more alarms have been triggered. At this point, end users may send commands to the BlueChip, instructing it to activate or deactivate any or all of the devices connected to the five outputs. If corrective action does not remedy the alarm state, the BlueChip will continue to alert end users until the situation is remedied or end users send an acknowledgement. End users may query the unit at a later date to verify the status of any of the inputs and outputs or take further corrective action.
---
jump to related cellular modem pages
---
ARC ELECTRONICS
a DCE Company
301-924-7400 EXT 25 x 17
e-mail Sales at drowe@data-connect.com
jump to ... Home Page