Fiber Optic Multiplexer Analog input
The TC8000 multiplexes up to 28 channels of Analog or Intercom Signals over single mode or multimode fiber optic cable. It supports voice bandwidths from 300 Hz to 3.4 KHz. The analog interface is for FSK (frequency shift key) applications. It has a 600 ohm isolation audio transformer and supports voltages from 0 to 3 Vpp. The intercom interface is for 4-wire voice communication. It connects to a handset with mouth-and-ear piece.
---
Analog and Intercom Fiber Optic Multiplexer
(Model TC8000) Related Products: TC1900, TC8116, TC8800
Up to 28 Analog/Intercom and/or RS-232,
RS-422, TTL, Dry Contact & Closure Channels
Voice Bandwidths from 300Hz to 3.4Khz
Push-Button Buzzer for Signaling
Multimode or Single Mode (850/1300/1550)
Built-In Power Redundancy
Optical Redundancy (Optional)
Rack mount or Standalone
Dimensions: Chassis Style SD10



TC8000S Standalone 8 port Unit

TC8000R (Housed in TCRM195 19" Rackmount Card Cage, 8-Channel Unit Shown)

(Click on images to enlarge)
---
Applications
The TC8000 is frequently used to link voice communications devices in telecommunications and SCADA environments. It is also used in harsh environments where ground loops, EMI/RFI interference and lightning conditions may occur.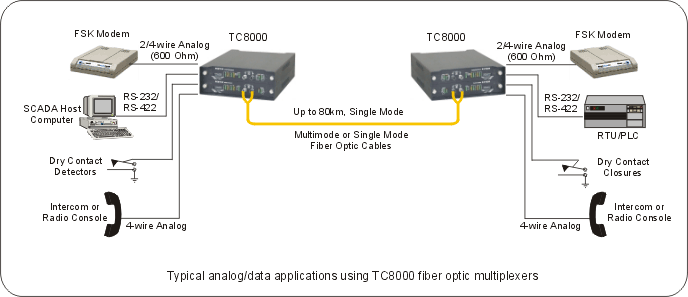 Description
The TC8000 Series* is a highly specialized 4-to-28 channel analog and data Fiber Optic Multiplexer that extends 600 Ohm audio and data channels to remote sites in a campus network. Users can mix or match audio/intercom channels or RS-232, RS-422, TTL and Dry Contact Interfaces in increments of four up to a maximum of 28 channels. The intercom interface is for 4-wire voice communication (handsets) and the analog interface is 2/4-wire, 600 Ohm transformer coupled. It is typically used for Frequency Shift Keying (FSK) applications.
Since the TC8000 digitizes the analog and voice signals (PCM), voice quality does not degrade over extended distances. Distances to 80 km* are typical over single mode fiber, 4 km over multimode fiber. It supports analog audio channels from 300Hz to 3.4KHz and asynchronous data rates to 19.2Kbps. Diagnostics include LEDs for "Alarm," "Power A," "Power B," "Tx," "Rx" and "Sync". Power redundancy is standard, optical redundancy is optional. Fiber optic connectors are ST or FC. Electrical connectors are RJ-11. Power is 12VDC or 115/230VAC with an external power cube. 24VDC and -48VDC options are also available.
The TC8000 is available standalone or rack mount. Standalone versions (TC8000S) support up to 8 channels, rack mount versions (TC8800R) support up to 28 channels. The TCRM195 19" rackmount card cage supports up to 8 channels and TCRM191 19" rack mount card cage supports up to 28 channels. Four RJ-11 ports are provided on the rear side to connect with handsets or customer's audio devices. A hardened temperature version (-20°C to 70°C), Model TC8000T, is also available for harsh environments.
The TC8000 is based on modern FPGA (Field Programmable Gate Array) technology. As a result, it benefits users by enabling optimum flexibility, low current consumption, high reliability and maximum MTBFs.
*Note: For ordering purposes, TC8001 is the Intercom version, TC8002 is the 4-wire Analog version, TC8005 is the 2-wire Analog version and TC8003 is the Data version.
---
Specifications
Audio Bandwidth
Analog
300Hz to 3.4 KHz
Intercom
300Hz to 3.4 KHz
Channel Capacity
Standalone / Wallmount
2, 4 or 8 Channels
Rackmount Unit
2, 4, 8, 12, 16, 20, 24 or 28 Channels
Data Interfaces
Async RS-232, RS-422, TTL or Dry Contact Detector or Closure
Data Rate
Up to 19.2Kbps
Optical
Transmitter
LED, ELED
Receiver
PIN Diode
Wavelength
850nm, 1300nm Multimode
1300nm, 1550nm Single Mode
Fiber Optic Connectors
ST or FC
Loss Budget*
(850nm, 1300nm, 1550nm)
Multimode (62.5/125µm): 15dB
Single Mode (9/125µm): 15dB
Electrical
Analog Interface
(2 or 4-Wire)
600 Ohm (Isolated Transformer)
Intercom Interface
Capacitor Coupled
Connector
RJ11 Female
Maximum Analog Input
3Vp-p
Connector
RJ11(Female)

System
Bit Error Rate
1 in 109 or better
Visual Indicators
System
PWR A, PWR B, VccA, VccB, ALARM
Electrical Signal Status
Pick Up Handset when Flashing, Push to Talk Remote Station Signaling
Power
Standard
12VDC @ 500mA
Optional
24VDC, -48VDC, or 115/230VAC (with external power cube)
Temperature
Operating
-10° to 50°C
Hi-Temp (optional)
-20° to 70°C
Storage
-40° to 90°C
Humidity
95% non-condensing
Physical (Standalone/Wallmount Unit)
Height
(6.70 cm) 2.6"
Width
(18.14 cm) 7.1"
Depth
(24.80 cm) 9.8"
Weight
(907 g) 2.0 lbs.
---
jump to fiber Tutorial
jump to related fiber equipment page
jump to related fiber page
---
ARC ELECTRONICS
301-924-7400 EXT 25 / 512-864-0756
jump to ... Home Page

arc@arcelect.com