Fiber Phone / RS-232 Extenders
Multiplexer
4-to-28 port Fiber Phone telephone and data fiber optic multiplexer that extends multiple telephone lines (2-wire FXS to fiber optics on the telephone side with ring down capability and FXO on the PBX side) and data channels (RS-232, RS-422, RS-485)
---
(Model TC8800) Related Products TC1900, TC8000
Extend Up to 28 Telephone Lines and /or RS-232, RS-422, RS-485, TTL, Dry Contact Closure, Dry Contact Detector
2-Wire Analog PBX and Key System Compatible
Multimode or Single Mode (850/1300/1550nm)
Built-In Power Redundancy
Optical Redundancy (Optional)
Hot Swappable Rackmount Cards
Applications
The TC8800 is typically used to link or extend data and telephone lines in campus networks. In many instances the TC8800 can replace expensive channel banks.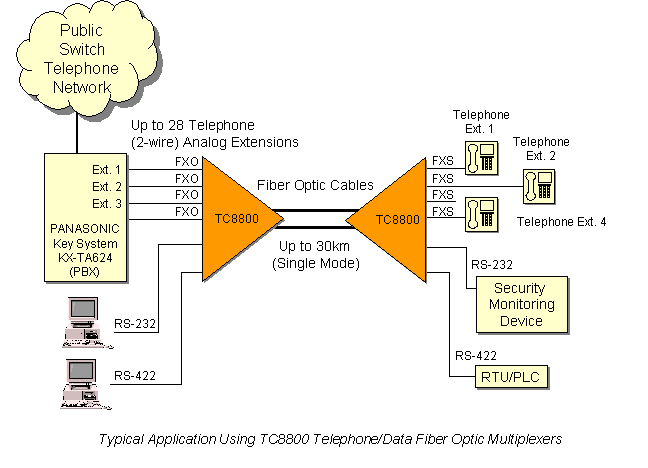 ---
Description
The TC8800 is a 4-to-28 channel telephone and data fiber optic multiplexer that extends multiple telephone lines and data channels to remote sites such as other buildings in campus networks.
Users can mix or match telephone channels or RS-232, RS-422, RS-485, TTL and Dry Contact Interfaces in increments of four up to a maximum of 28 channels. For example, a user could multiplex 20 telephone channels and 8 RS-232 data channels.
The TC8800 converts 2-wire FXS to fiber optics on the telephone side with ring down capability and FXO on the PBX side. Distances up to 30km are typical over single mode fiber, 4km over multimode fiber. Because the TC8800 digitizes the analog signals (PCM), voice quality does not degrade over extended distances.
It supports Telephone channels from 300Hz to 3.4Khz and asynchronous data rates to 19.2 Kbps. Twelve LEDs are available for status monitoring and diagnostics. A dry contact alarm is optional. Diagnostic LEDs for each channel include Tx, Rx, Hook and Ring.
The TC8800R PC Card version requires the TCRM191 or TCRM195 19" Rackmount Card Cage. Each TC8800R card can be removed or installed on the TCRM191 without powering down the system ("hot-swappable"). The TC8800S Standalone version currently supports up to 8 telephone or data channels. An extreme temperature version (-20°C to 70°C), TC8800T, is also available.
The TC8800 Series works with all types and sizes of multimode or single mode fiber optic cable at 850/1300/1550nm. Fiber optic connectors are ST or FC. RJ-11F ports are provided on the rear side to connect with telephones. Power redundancy is standard; optical redundancy is optional. Power is 12Vdc; 115/230VAC and 24VDC are optional
---
Specifications
Audio Bandwidth
...............................300Hz to 3.4 Khz
Data Rates
Async RS-232,RS-422, RS-485,TTL
.............................Up to 38.4 Kbps
Channel Capacity
Rack Mount Cards...4,8,12,16,20,
or 28 Channels
Optical
Transmitter.......................LED/ELED
Receiver..........................PIN Diode
Wavelength
.................850nm/1300nm Multimode
............1300nm/1550nm Single Mode
Fiber Optic Connectors ....... ST, FC
Loss Budget* - 850/1300/1550nm
Multimode @ 62.5/125µm........15dB
Single Mode @ 9/125µm.........15dB
Electrical
Connector.............RJ11 Female

Visual Indicators
PWR A & B, Vcc, FXS-O, Tx, Rx,
Monitor, Optic-Rx, Sync, TxFCLK,
LOCLB, RMTLB
For each channel: Tx, Rx, Ring, Hook
Power
Standard................115/230VAC
Optional...............24VDC, -48VDC
Temperature
Operating.....................-10° to 50°C
Storage........................-40° to 90°C
Humidity...........95% non-condensing
Physical (Rack Mount Card)
Height.......................(3.53 cm) 1.40"
Width......................(18.10 cm) 7.10"
Depth......................(24.80 cm) 9.85"
Weight.................(477 gm) 1.05 lbs.
*Contact factory for higher requirements
---
jump to fiber Tutorial
jump to related fiber equipment page
jump to related fiber page
---
ARC ELECTRONICS
301-924-7400 EXT 25
jump to ... Home Page

arc@arcelect.com
---
ARC ELECTRONICS
301-924-7400 EXT 25
jump to ... Home Page

arc@arcelect.com